"Cute little cupcakes! Great for the kids to make and for all of us to enjoy. Undecorated they freeze really well so you can prepare them beforehand."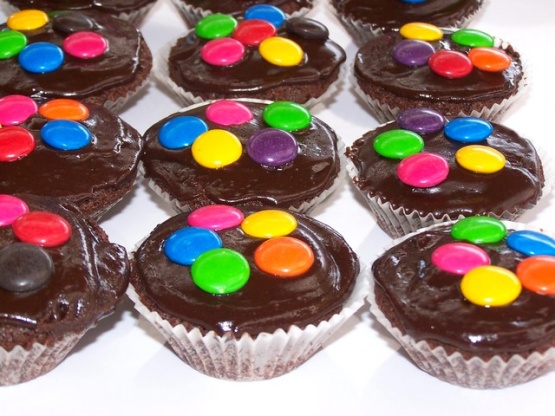 Chocolate Sweetie Cupcakes
2 recipe photos
Directions
Preheat the oven to 190°C/gas5. Put 18 paper cases into bun tins.
Weigh out 50g of butter and set this aside to make the icing. Add the remaining 125g to the sugar and beat together until light and creamy. Beat in the eggs, one at a time, beating well between each one. Add 1tbsp of flour with the last egg.
Sift together the remaining flour, baking powder and 25g of the cocoa, then fold into the cake mixture.
Divide between between the cake cases and bake for approx 15 minutes, or until they spring back when pressed lightly. Remove from bun tray and place on wire rack to cool.
To make the icing, put remaining butter in a pan with the milk and golden syrup and heat gently until the better starts to melt. Remove pan from heat and sift in the icing sugar and remaining cocoa. Beat together to create a thick and glossy icing.
Spoon a little onto each cup cake and decorate with the Smarties.
Note: You can use all kinds of sweets to decorate -- feel free to experiment or use your faves!