"These are similar to rum balls, except they are made with sweet sherry and almonds. These were created for ZWT5 and in honor of one of my ancestors who sailed in the Spanish armada. Oh, and a second difference: the chocolate is on the outside, not the inside. Cook/prep time does not include time to meld the flavors (about a day)."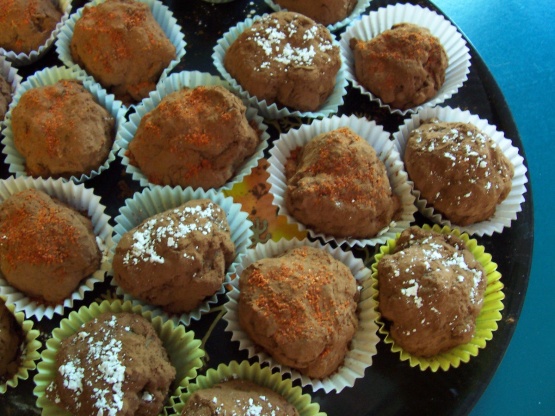 Chocolates Rusticos
3 recipe photos
Directions
Finely crush the vanilla wafers. (Put half in a gallon ziplock baggie. Close. Crush with a rolling pin. Empty into bowl. Repeat with second half.).
Crush the almonds with your hand, just making a fist with them, if you don't mind some larger pieces getting through. Otherwise, chop them finely.
Using a mortar and pestle (or a plate and the back of a soup spoon), crush the saffron threads to a powder.
Combine vanilla wafers, confectioners sugar, honey, almonds, sherry, saffron, and 1/4 teaspoons ancho chili powder. If necessary, add another tablespoon or two of the sherry to make confection easy to mold. (If you live somewhere humid, you might want to make that original 1/2 cup of sherry a *scant* cup until you see if you need the whole 1/2 cup. You can always add more liquid. You can't take it out.).
Roll into one-inch balls.
Combine cocoa, cinnamon and 1 teaspoons ancho chili powder. Put in a pie plate. Roll the balls in this; create a thick cocoa layer from it. Put them in paper candy cups.
If desired, the balls can have confectioner's sugar or cayenne pepper sprinkled on the top. The former is good for contrast, the latter is good for those who like heat. If using the cayenne pepper, press it lightly into the cocoa powder so that it doesn't fall straight off. Do not touch your eyes with those fingers.
Put in an airtight container and let rest for about a day in order to meld flavors. While they are okay/good right after they are made, they are much better the following day.