"These brownies are chocolaty and gooey and not low in anything! When we made them I wanted to use up the rest of the miniature marshmallows that I had which wasn't close to 1 pound - but in reality closer to 1/2 cup - however using the full amount would make them even more scrumptious and gooey I imagine. Recipe source: Reader's Digest Edited: the frosting part of this recipe was corrected after one reviewer mentioned that the directions weren't clear."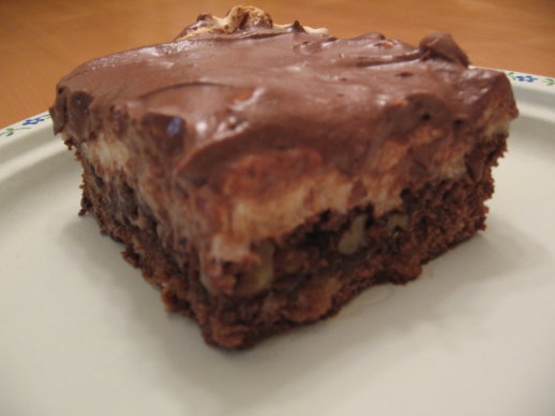 Chocolaty and Gooey Brownies
3 recipe photos
Directions
Preheat oven to 350 degrees Fahrenheit.
In a large bowl combine the 1 cup softened butter, 2 cups sugar, 1/3 cup cocoa and the 4 eggs.
Stir in the flour, vanilla, salt and nuts (if using).
Pour into greased 1-inch deep baking sheet (or a large baking pan; we used a 9 x 13 pan but had to cook the brownies longer).
Bake for 20 minutes.
Cover with marshmallows. (I used quite a bit less but with great results).
Bake 3 to 5 minutes so marshmallows can melt.
To make frosting: mix together remaining ingredients (1 1/3 cups powdered sugar,butter, cocoa, and evaporated milk) using an electric mixer.
Frost brownies when brownies are cool.