"There was a request for the Outback's Blue Cheese Chopped Salad on the forum today... it's been a couple of years since I had the salad myself, but I recall really enjoying it! The request set my tastebuds a'craving, so I put together this salad. We took it to a potluck today - I had two servings of it for lunch, and the husband and potluck attendees pronounced it great! :)"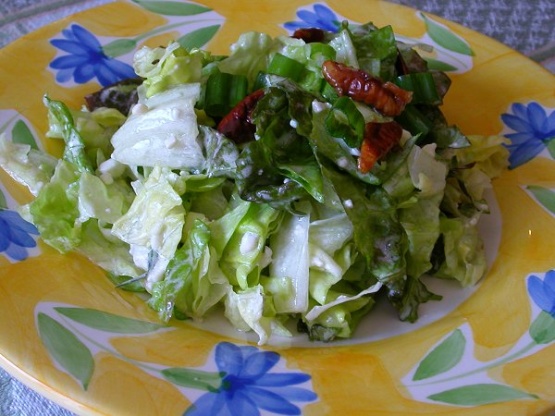 Chopped Blue Cheese Salad
1 recipe photo
Directions
Preheat oven to 375 degrees F.
Slice each pecan half into three lengthwise pieces.
Mix together the cinnamon and brown sugar.
Toss pecans with melted butter, then with the cinnamon/sugar mixture, tossing well to ensure a thorough coating.
Put the nuts on a parchment-lined baking sheet and bake for 5 to 8 minutes, until sugar is caramelized.
Remove the baking sheet from the oven, slide the parchment together with the nuts off the sheet to cool, and set aside.
Chop the lettuces into smallish bitesized pieces; use a salad spinner to wash and dry them.
Slice the green onion.
Whisk together the vinaigrette ingredients.
Place the chopped lettuce in a large serving bowl (one large enough to toss the salad in).
Add the vinaigrette and toss thoroughly to coat.
Sprinkle with the chopped onion.
Break the cooled pecan slices apart and sprinkle them over the salad.
Serve and enjoy!
Note: if taking this to a picnic or potluck, make sure you prepare it just before you go or the lettuces will get a bit limp after a couple of hours - it'll still tastes good, though.