"This is a traditional English steamed pudding, which I serve with Egg Nog Sauce. DH could care less about Christmas anything, except this. If I don't make this, I may as well pack my bags ... :) This is his dear Mom's recipe, just as she wrote it, I don't dare change it!"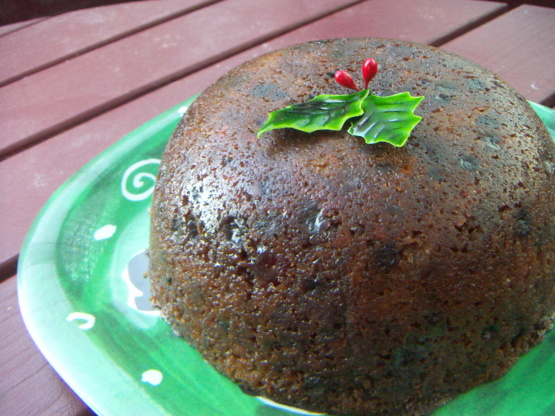 Christmas Carrot Pudding
1 recipe photo
Directions
Sprinkle a tablespoon of flour over fruit & mix, set aside.
Grate carrot & potato, set aside.
Cream sugar & butter, add egg & beat.
Add carrot & 1/2 of potato.
Mix well & add remaining flour & spices.
Dissolve baking soda in remaining 1/2 of potato.
Add to pudding & mix lightly.
Add floured fruit & mix lightly.
Add rum or brandy if using.
Pour into large buttered pudding bowl.
Cover with greased parchment or waxed paper.
Cover with clean cotton cloth, tied down.
This recipe makes 1 large & 1 small pudding. You can make 2 medium puddings.
Steam on stovetop for three hours, watching water level.
Water should not come more than halfway up the bowl.
At this point you can either serve it, refrigerate for a few days or put in the freezer.
I try to make mine about a month ahead, put in the freezer, take it out the day before you want it, thaw in fridge.
Steam for one hour before serving.
Serve with egg nog sauce, or your favorite hard sauce.