"This delightful pastry was made by my Polish Grandmother every year for Christmas. Traditionally they were made for the last Thursday before Lent. They take a while to make but the time you put in to making these is well worth the reward!"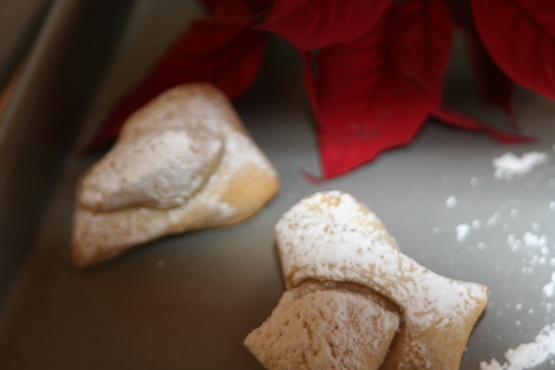 Chrusciki - Polish Angel Wing Cookies
2 recipe photos
2

eggs, whole (room temperature)

4

egg yolks (room temperature)

1⁄2 teaspoon salt
3 -3 1⁄2 cups all-purpose flour
1⁄2 cup confectioners' sugar (plus a little more for dusting)
1⁄4 cup butter (room temperature)
1 1⁄2 ounces brandy (one shot)

deep frying oil (I like to use lard for these)
Directions
Using a stand mixer, whisk whole eggs, egg yolks, butter and salt until thick and lemon colored.
Slowly beat in the confectioner's sugar and brandy.
Change to the dough hook and slowly mix in the flour a 1/4 cup at a time until the dough forms and pulls away from the bowl.
Using the dough hook, knead the dough for 3-5 minutes. It should be thick like bread dough.
Keep the dough in the bowl covered with a damp towel to keep it from drying out.
Snip off a baseball sized piece of dough. On a floured surface, roll to 1/8 inch thick at the most!
Using a sharp knife cut the dough into 1 1/2 inch wide strips. Then cut the other way in a diagonal to make pieces of dough that are about 1 1/2 X 4 inches.
Next use your knife to cut a slit in the center of each piece.
To form the wing shape, take one pointy end and poke it through the slit. Very gently pull the end through the slit to form a bow shaped cookie.
In a heavy pot or deep skillet, heat the fat of choice (I like lard) to 350°F Use a thermometer!
Drop the cookies, 3 cookies at a time, into the fat. Drop 3 cookies at once not 1 at a time. The cookies will sink to the bottom at first then they will puff up and float a couple of seconds later. As soon as this happens use a couple of forks to turn them.
Immediately after you turn them use a deep fry strainer to remove them from the fat to drain on brown paper bags.
Dust the still hot cookies with confectioner's sugar and repeat, cooking 3 cookies at a time until finished.
Store in tightly covered, wax paper-lined tins.