Want more from Genius Kitchen?
Watch on your Apple TV, Roku, or Fire TV and your iOS, Fire, or Android device.
Learn More
"I love using ciabatta to make feta and tomato sandwiches - it's a good, sturdy bread and the porous texture is great for juicy sandwiches. Making ciabatta sounds tricky, but it's really quite easy - just remember to keep the dough wet! Rising times are not included."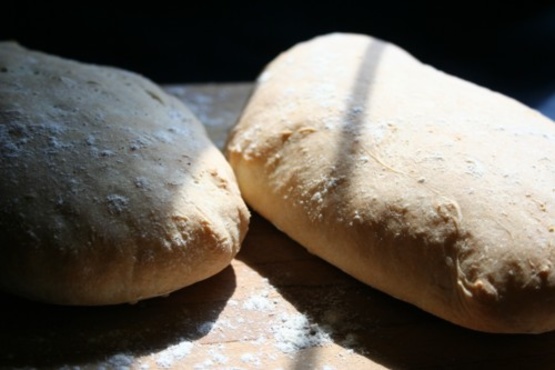 Ciabatta (An Italian Bread)
1 recipe photo
Directions
Sponge: In a mixer bowl, add the yeast to the water, allow to stand for 3-4 minutes, stirring gently. Sift the flour and add to the yeast. Combine ingredients well, cover and let stand at room temperature for 12 hours.
Dough: Add the yeast to the milk, stir and let it stand 3-4 minutes to be sure the yeast is working (it should foam up).
Add the yeast mixture, water and oil to the sponge and mix with a dough hook.
Add 2 cups of flour and the salt and knead for 2 minutes at low speed. Add the remaining flour slowly and knead for 3 more minutes, adding more water, until the dough begins to pull from the sides of the bowl.
The dough should be quite soft and wet - a lot like a thick mud - this is why it cannot be kneaded by hand. Add the last of the flour slowly. Add a little more water, if necessary. (You may have to stop the mixer to scrape the sides of the bowl once or twice. As the dough kneads, you will see it turn from a puddle of mud to a sticky dough with long, long strings of gluten forming and stretching from the sides of the bowl to the ball of dough on the hook).
Cover or place in a large, oiled bowl and let rise in a warm place for about 1 to 1 1/2 hours or until TRIPLED in size and bubbly.
Get three baking sheets and sprinkle them with flour. Take a spatula and carefully spoon out a third of the still very sticky dough onto each. Try not to deflate the dough too much, although it will deflate some, you can't really help it.
Since ciabatta means slipper in Italian, try to make each loaf the length of a man's shoe. If you spoon the dough out to one edge, and sort of use your spatula to guide it in a ribbon down the baking sheet you can preserve the light strands or striations in the dough, which will look nice when it's proofed and baked. The loaves will probably be about an inch thick. If you want to give them a nicer shape, flour your hands lightly and neaten up the edges into an oblong. Think shoe, not loaf! Think rustic - don't make the loaves overly neat and perfect, you want a rustic look. Flour your hands again and very gently pat the tops of the loaves to flour them, or sprinkle them with flour if you're afraid of smushing them.
The dough will still be like glue at this point, so don't even try to handle it much. It's a mess, and that's the way it needs to be. Let them proof for 30-40 minutes, or until a little less than double.
Preheat oven to 220°C/425°F.
Bake the bread for 25-30 minutes (22-25 minutes if using stones or tiles) or until bread just begins to turn light golden-brown. During the first 10 minutes, brush or spray the bread lightly with water twice (spraying is faster - you don't want the heat escaping from the oven).
Enjoy!
get the genius kitchen app.
Watch on your iPhone, iPad, Apple TV, Android, Roku, or Fire TV.
Learn More