"This is like six cider recipes in one."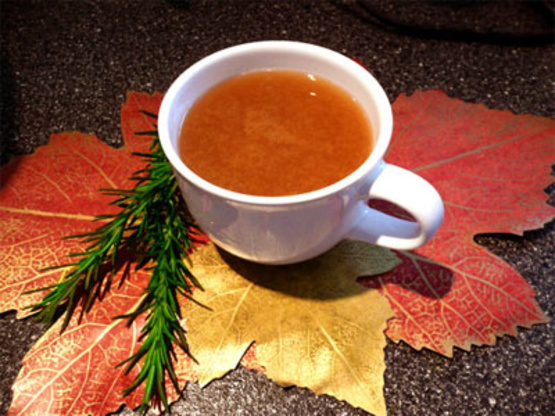 Cider Six Twisted Ways
1 recipe photo
Directions
Main Directions: Place whole cider spices in a zip-top plastic bag and give them a firm whack with a rolling pin, mallet or skillet to crush them. Combine cider and sugar in a large saucepan, stirring until sugar dissolves. Add crushed spices from plastic bag and bring to a boil. Reduce heat to medium and simmer 15 minutes. Strain through sieve, discard solids and serve warm. To keep warm for awhile, transfer to a warm Crockpot.
Citrusy Spiced: Use a vegetable peeler to shave sections of rind from lemon or orange (leaving the white pith behind), and add them to the cider while it simmers.
Apple Cider Nog: After pouring cider into individual cups, top each with a tablespoon of low-fat vanilla ice cream and serve immediately.
Rosemary: Stir in the sprigs of fresh rosemary before the cider begins to boil.
Pomegranate-Vanilla: add vanilla bean before cider begins to boil. Add pomegranate juice at beginning of simmer.
Cranberry-Apple: add cranberry juice or fresh cranberries at beginning of simmer.
Remember to strain after adding additional ingredients per main recipe.