"Okay...it's another cinnamon roll recipe! My daughter can't quite say Cinnamon so it comes out Cimanum! I made these tonight and they are so simple and so yummy! A must try...great recipe for a novice! This is from a Bridgford Frozen White Ready-Dough package."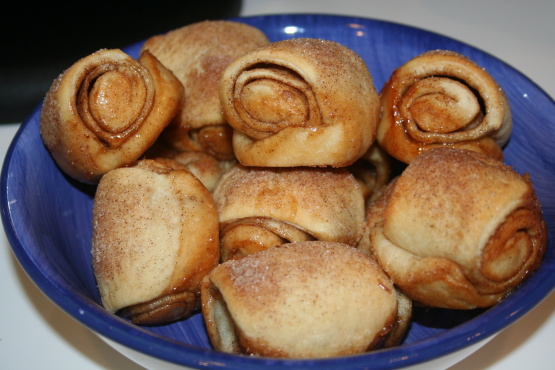 Cimanum Rolls With Frosting!
1 recipe photo
Directions
On a lightly floured surface, roll dough out to a somewhat rectangle 10"x12".
Prepare a 12 muffin tin pan with cooking spray.
Spread dough with about 2 TBS of the melted butter, coat well.
Mix cinnamon and sugar, setting aside 2 TBS for use later.
Sprinkle mixture over dough liberally.
Begin with the longer side and roll like a jelly roll, tightly.
Cut into 12 pieces.
Place one spiral into the 12 cavity muffin pan.
Brush tops with remaining butter and sprinkle with cinnamon.
Cover and let rolls rise in the fridge overnight until they double. (I didn't do this part. I put them in the oven immediatly and they turned out great.).
Bake in a 350 degree oven for 15-20 minutes or until golden brown.
Turn out onto a rack to cool.
To frost, mix 1 1/2 cups powdered sugar with 2 TBS milk or cream and 1 tsp vanilla. Drizzle onto rolls.