"This vinaigrette dressing is not overly sweet; just a bit on the tangy side. So far I've only used home-cooked strawberry jams that I've made myself, to make this dressing. Not much vegetable oil is needed. I don't care for dressings that state to add a lot of oil. This one balances out very well."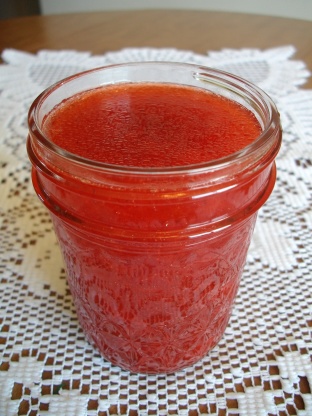 Cindi's Strawberry Vinaigrette Dressing
5 recipe photos
9

tablespoons strawberry jam (*See note)

4 1⁄2 tablespoons white wine vinegar or 4 1⁄2 tablespoons rice vinegar

1

tablespoon vegetable oil

1

teaspoon sugar
1⁄16 teaspoon salt (or just a pinch)
additional add in - 1/2 teaspoon poppy seed (optional)
Directions
In a bowl, jar, or a glass measuring cup, add all the above ingredients; mix by stirring with a spoon.
If desired, add a 1/2 teaspoon of poppy seeds to the dressing; stir to mix.
Serve dressing immediately with your favorite salad fixings, or refrigerate until ready to serve.
This almost makes 1 cup of dressing (about 7/8's of a cup).
*Note: When I prepared this vinaigrette dressing, I originally used a home-cooked strawberry jam, which I had prepared with a light powdered pectin, SURE JELL (in the pink box), but today I made this dressing using Ball Instant Fruit Pectin, it's a no-cooked strawberry jam. Both are great for this recipe.
I enjoy this dressing served over a bed of spinach, along with chopped smoked honey-turkey deli meat, hard boiled egg slices, and chunks of fresh pineapple. I've also enjoyed this served with a mixture of red lettuce, leafy green lettuce, fresh blueberries, canned pineapple chunks, mandarin oranges, slices of red onion, and pecan halves. And today I enjoyed the dressing over baby romaine lettuce, along with mandarin oranges, canned pineapple chunks, and sliced almonds.