"I found this recipe in "Out to Brunch - At Mildred Pierce Restaurant" Beignets are a french doughnut without the holes. These are best served while still warm."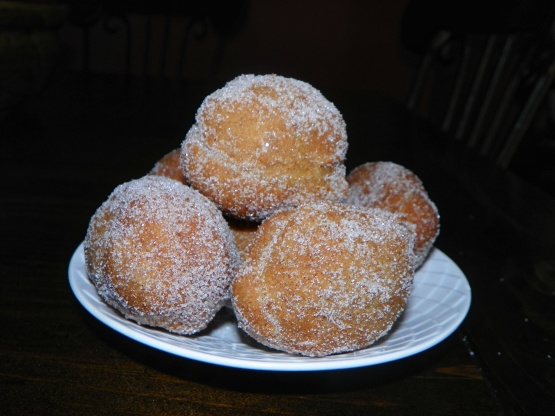 Cinnamon and Sugar Beignets
6 recipe photos
Directions
In a bowl, combine the warm water, yeast and 1 teaspoons of the sugar. Set in a warm place for 10 minutes.
In a large bowl, cream together the butter, remaining white sugar and the cinnamon. Add the eggs and yolk one at a time, beating well with a wooden spoon after each addition. Beat in the yeast mixture, salt and flour until smooth.
Cover the bowl with plastic wrap and place in a warm spot until the dough has doubled in size, about 2 hours. Punch down the dough in the bowl, cover again and refrigerate for 3 hours or overnight.
Heat the oil to 325 F (160 C). Meanwhile, turn dough out onto a lightly floured surface and press to a 1" thickness. Using a 2" cookie cutter dipped into flour, stamp out the beignets. Press scraps together and pat into a 1" thickness. Cut out the remaining beignets.
Fry beignets, 4 at a time, turning occasionally until they're evenly browned (about 5 mins). With the slotted spoon, carefully scoop them out and place on a paper towel to absorb any excess oil. Roll the beignets in the Cinnamon Sugar while they're still warm.
Note: Also good rolling them in powdered/confectioners sugar.