"I've noticed that several chefs have been asking for recipes for a breakfast that travels. This is a great glorified muffin. It is made like banana bread, topped with sliced bananas, brushed with butter, and then covered with a cinnamon and sugar mixture. Just grab one on your way out the door and enjoy or take a whole batch to work for everybody. You'll probably have to pass out the recipe for them too."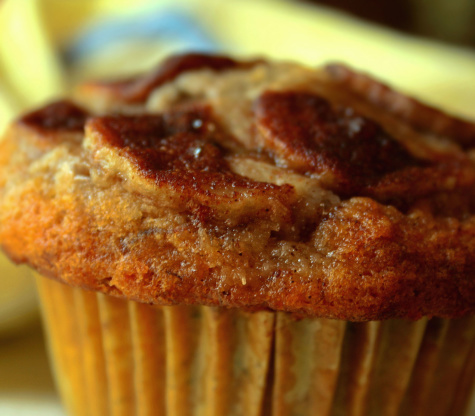 Cinnamon Banana Breakfast Cakes
2 recipe photos
Directions
Preheat the oven to 350°F
Cream the butter and sugar together until light and fluffy.
Add the eggs and continue beating.
Add the bananas, vanilla, and buttermilk.
In another bowl, mix the flour, baking powder, baking soda, and cinnamon together.
Fold flour mixture into the butter-banana mixture.
Spoon the batter into the muffin papers.
Slice the bananas and arrange them on top of the dough. Use as many slices as desired. (Remember, the dough will expand in the oven while the banana slices will tend to become smaller).
Brush the tops with the melted butter and then sprinkle them with the cinnamon-sugar mixture.
Bake 20 to 25 minutes or until a toothpick inserted in the center of the cake comes out clean.
Cool on wire racks.