"This is the nicest spicy fruit loaf I ever made. It is wonderfully moist and really scrumptious! (I make a fruit loaf of one sort or another every other day, and change things a bit from time to time. This is my absolute favourite combination). A note regarding my ingredients - my dried raisins and peel are really quite dry so I increase the water to about 244g (about an extra 3/4 tsp). This means I deliberately make it with the dough looking like it's way too wet during kneading, but the very dry fruit soaks up the excess water. My loaves work out fine despite looking over-moist to start with. I've found through experience that for any bread that will have dried ingredients added late in the kneading process it can be necessary to adjust the water quantity subtly according to how dried the fruit/grains etc are. I use part margarine part butter to reduce fat content slightly. No reason really not to use all butter instead. Butter is nicer :) Makes a loaf of approx 1 1/2 lbs."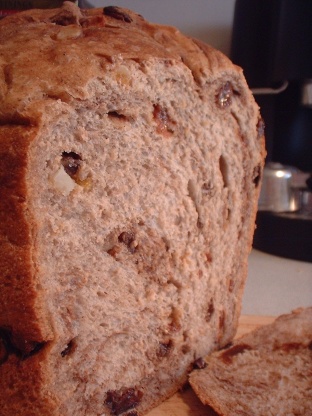 Cinnamon Raisin and Apple Bread (Abm / Machine)
2 recipe photos
READY IN:

1hr

SERVES:

10-12

UNITS:

US
Directions
Remove pan from bread machine and place on electronic scales and zero them.
Pour in the water (240ml water weighs 240 grams) and weigh in the rest of the dough ingredients in order.
Replace the pan in the bread machine and start machine on a raisin or equivalent 'speciality' setting. I prefer 'normal' crust for this.
In small bowl weigh the raisins and dried mixed citrus peel. Add the spices and mix together.
Into a second small bowl, peel about 1/3 of an average size eating apple (I usually have Braeburn apples handy but pretty much any apple is fine except the tasteless ones like Golden Delicious and Gala). Chop into small chunks somewhere between roughly 1/4 and 1/3 inch in size. Once in the bowl, sprinkle with another teaspoon of ground cinnamon and stir with spoon to cover the bits well (to take the moistness off the sides of apple bits so they mix in better).
Add dried fruit & spice mix at 4 minutes before end of final kneading or at the beep if you trust your machine not to mash the fruit like mine always does. (My LG machine beeps nine minutes before end of final kneading which is far too soon - it can reduce dried fruit to the size of grains of sugar during that time!).
If you trust your machine not to mash the apple then you could maybe add it a minute or so before kneading finishes. I don't trust mine in the slightest so here's what I do --
Wash hands in very cold water and dry well just before the final kneading completes then --.
-- when kneading has completed, quickly add the chopped apple and quickly mix it well by hand. (Shouldn't need to remove pan from bread machine to do this (unless it's in an awkward place! :).
Slightly more stuff to do for this loaf than usual, but it's absolutely worth it!