"This is the one cookie my husband requested our first Christmas. I had never had them so this recipe is from an amazing blog called Spoonful of Sugar. They are difficult but this recipe makes them also delightful and fun to try if you have the time. The best thing about this recipe (besides the sit down, relax, and have a cup of tea step!) is she gives you her hints after a disastrous first attempt. If you follow this exact, even a non-careful cook like me can make these delicious. Her hints are below, but I will say that I think much depends on the almonds. If they aren't ground just right, you will be nearly unable to form them. You can try chilling them longer but I have given up before and just made them round globs. they are still delicious, so don't throw the batter out, even if you think it is unworkable! * I beat the egg whites with the lemon juice to ensure that they whipped up to the biggest possible volume. * Mixed the ground cinnamon with the ground almonds before folding that mixture into the meringue. * Most importantly, I rolled the dough out between two sheets of clingfilm (Plastic wrap). I am the Clingfilm Queen! This eliminates the need to cover the work surface in extra sugar and thus removes the possibility of things ending in a sticky mess. Divide the dough into smaller portions to do this, keeping the remainder of the dough in the fridge whilst working with one portion. * Dipped the cookie cutter in some cold water to prevent it sticking. * Re-rolled all the scraps as they hadn't been toughened or made overly sticky by adding in extra sugar. The cookies taste as good as they look. Sweet, almondy, and with a heavenly aroma and kick from the cinnamon. Oh, I did have to bake them a lot longer than the recipe or. I did 320 degrees for I think around 16 minutes each, it might have been my oven, or mine were thicker, anyway just keep checking them and take them out when they just get a bit beige. My first batch were undercooked and the ones a bit crispier on the outside were awesome."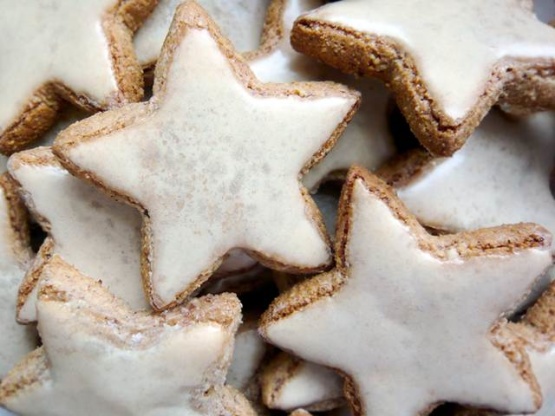 Cinnamon Stars (Zimtsterne) German Christmas Cookies
1 recipe photo
3

large eggs

350

g icing sugar, for the dough (powdered sugar, and some more icing or regular white sugar to sprinkle the surface you work on with,)

1

tablespoon lemon juice

1

teaspoon ground cinnamon

400

g ground almonds (this is a big issue, you can't let them get gummy. I guess in some places you can buy them already g)

baking paper or parchment paper
Directions
Separate egg yolks from whites and beat whites until stiff peaks form.
Slowly sift in the sugar and lemon juice, then beat some more for about 8 minutes.
Put aside 4 heaped tablespoons of the meringue - this will be used to top the cookies later on.
Add ground almonds and cinnamon to the remaining meringue and mix well. You might want to add a dash of rum or Amaretto.
Cover the dough and let it rest in the fridge for about an hour.
Sit down, relax and have a cup of tea.
After an hour fetch the dough from the fridge.
Preheat the oven to Gas Mark 3/160C/320°F.
Sprinkle a surface with confectioners' or regular white sugar and roll the dough to approximately 5 mm.
Cut the stars with a star shaped (yes, indeed!) cookie cutter.
Put the stars on the lined baking sheet.
Now get the reserved meringue from earlier. You might have to stir it a bit so it becomes a smooth mix. You also might want to add some more lemon juice. It's a matter of taste.
Now brush the cookies with the topping and bake them for about 8 minutes.
Cool on the baking sheet.
Store in an air-tight tin.
The cookies should keep for about two weeks.