"The etrog (citron) is a citrus fruit that is used by Jews every year during the holiday of Sukkot (late September, early October, depending on the lunar calendar). It's entire purpose during the week-long holiday is to smell nice. Yes, that's it, we just smell the thing. After the holiday is over you can chop up the etrog and make jam. What I like to do is to stud it with cloves and then use it as the most aromatic besamim for the havdalah service signifying the end of the Sabbath. Aside from the etrog and the cloves, you will need a thin crochet hook to pierce the fruit before sticking in the clove. I use a 0.75 hook, but a 1.00 will work just as well. These babies last for years, and if you already have one or two (or ten or eleven, as is the case in my house), they make lovely gifts. BTW, you can also use a lemon or an orange, the results are the same, just shaped differently."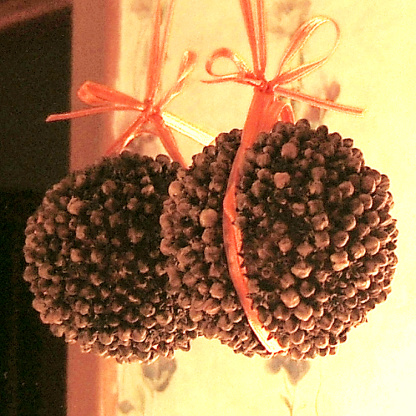 Citron (Etrog) Pomander
2 recipe photos
READY IN:

2hrs

SERVES:

1

UNITS:

US
Directions
Wash the etrog and dry it.
Pierce the etrog with the crochet needle (see description above) and stick in one clove.
Start at the top and work your way around the etrog until it is covered completely in cloves. This may take a while, it's a good thing to do in front of the television.
Once the etrog is completely studded with cloves, let it dry in a warm area. It will shrink, the whole thing will tighten up, and you will have the most wonderful besamim for havdalah.
Shavu'ah tov!