"I've been perfecting this recipe since having something similar at Panera Bread. The garlic in it is not to be overwhelming - just a kiss of garlic. Garlic lovers, please resist the temptation to double the garlic. This recipe will knock your socks off, as is! So delicious! Great for freezing."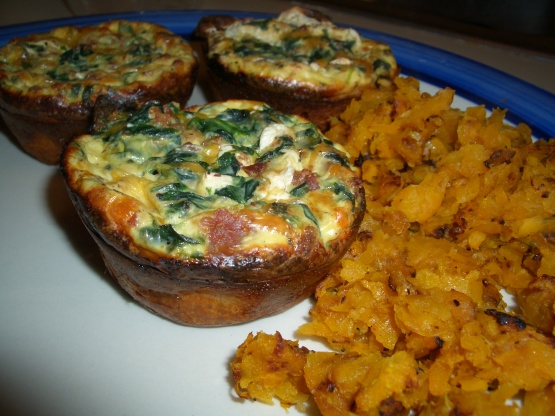 Claudia's Low Fat Spinach & Bacon Quiche Muffins
5 recipe photos
Directions
Preheat oven to 375 degrees.
Saute onions & garlic in olive oil, 1 minute.
Add turkey bacon, cook until bacon is browned, but not crisp, approximately 3 to 5 minutes, stirring occasionally. Drain. (I like to blot with a paper towel to get out all the excess grease.).
Combine cream cheese, Eggbeaters and milk; smashing cream cheese with back of the spoon until it is broken up.
Add salt & pepper to taste to egg mixture.
Add bacon mixture, green onions, cheese and spinach to egg mixture.
Unroll crescent rolls.
Working with ¼ of the crescent rolls at a time (2 triangles), pinch seams together and roll with rolling pin out on floured board to an 8x8 square. Cut into fourths.
Place ¼ into each muffin cavity to form 1 muffin. Press up in muffin tin to fully line the muffin cavity.
Repeat with remaining crescent rolls.
Bake 20 to 25 minutes @ 375 degrees or until knife inserted in middle comes out clean.
When slightly cooled, run knife around muffin to release. Serve or store for later use.
Cool completely before storing in Ziplock bag.
When ready to serve, place muffin on plate and reheat in microwave.
Yield: 16 muffins.