"The name says it all ... rice cooked in a claypot, with chicken and/or other meats. The claypot gives the rice a slightly burnt flavour which makes it oh so yummy! This is a popular dish at the hawker stands in Singapore and Malaysia, although it is more commonly made at home."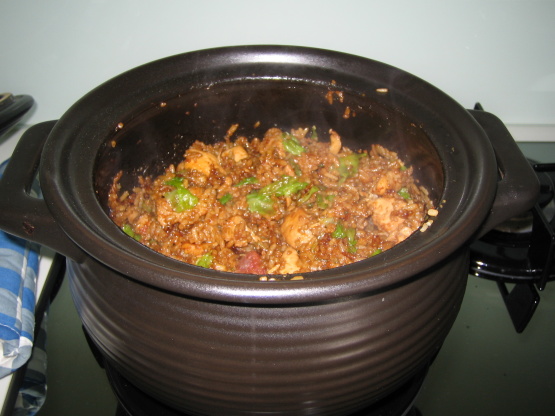 Clay Pot Rice With Chicken
1 recipe photo
Directions
Place rice, chicken broth, garlic and shallots into claypot.
Mix in dark soya sauce, oyster sauce, pepper and sesami oil.
Cook rice in chicken broth with a claypot over a medium flame.
Leave the lid of the claypot closed during cooking until the broth is nearly evaporated.
Open lid and pour in chicken thigh and chinese sausage.
Replace the lid and continue cooking for about 10-15 minutes.
Open the lid and stir the rice mixture to prevent the rice from sticking too much to the pot.
Cook until the rice is cooked (should be soft and fluffy).
Remove rice and serve.
Add additional dark soya sauce and pepper to taste.