"I'm always creating new ways of using ethnic flavours; mixing Indian with French, Asian with Mexican. The world is getting to be a global community and our food should reflect the mosaic of our planet."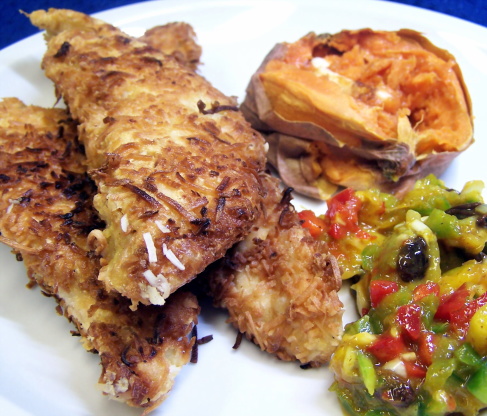 Coconut Chicken With Mango Salsa, Cinnamon Butter Sweet Potatoes
1 recipe photo
READY IN:

1hr 45mins

SERVES:

4-6

UNITS:

US
3

boneless skinless chicken breasts, cut into 4-1 inch wide fillets
1 1⁄2 cups flour, any kind

3

eggs, beaten

2

teaspoons curry paste

3

mangoes, peeled and diced
1⁄4 cup rum, any kind but darker is better
1⁄4 cup raisins, any kind

2

cups oil, your choice but not olive oil as it is too distinct a flavor

1

teaspoon fresh ginger, grated

1

tablespoon brown sugar

3

green onions or 3 scallions, chopped white and green parts

1

garlic cloves, minced or 1⁄2 teaspoon bottled garlic

3

tablespoons vinegar, any type
1⁄2

cup red pepper, seeded and chopped fine

1⁄2

cup sweet green pepper, seedes and chopped fine

4

sweet potatoes or 4 yams

1

teaspoon cinnamon

salt and pepper

Optional

1

hot chili pepper, seeded and chopped. Remember to wash your hands well after you prep it and don't touch your face
Directions
One hour before you wish to eat:.
Wash, then score with a knife, the skins of the sweet potatoes or yams and place in a 350°F oven.
To save some time, you could microwave them 1/2 way for 8 minutes and then put into a 350°F oven for 1/2 hour.
In a small dish add the 1/2 butter or margarine to the 1 tsp cinnamon. Mix well and cover and refrigerate.
Make the salsa next.
Into a glass or ceramic bowl, put the raisins into the rum and let soak for 15 minutes. Slightly warming the rum will allow the raisin to increase absorption.
After rehydrating, add to bowl: the mango, 1/2 tsp of the curry paste, the peppers, garlic, green onions, ginger, sugar, vinegar and give it a stir to incorporate. Cover with plastic wrap and refrigerate.
This is best when mixed just a few hours before serving but can be made in the morning if kept tightly covered.
Making the coconut chicken fingers.
Into a plastic resealable baggie or a bowl, put 1/4 oil mixed with 1 1/2 tsp of the curry paste together. Add salt and pepper to taste.
Add the prepped chicken fillets into the bag or bowl and gently massage the marinade into them. Leave for 15 minutes in the refrigerator.
Heat the remaining 1 1/2 cups oil in a heavy bottomed pan set to medium high heat. Too high heat will cause the coconut to burn before the chicken is thoroughly cooked.
Using three bowls, put the flour into one with salt and pepper to taste, the eggs slightly beaten into another, and the coconut into another.
Take out the chicken. Taking one fillet at a time, dredge into the flour, then the egg, then into the coconut. Shake off excess and set aside on a plate. Do all the fillets in this manner.
Gently place the fillets in the hot oil, and watch out for splatters. You will have to keep and eye on them. If they brown too quickly, then the chicken inside won't be cooked before the coconut burns.
Cook for 10-15 minutes, turning once.
Take out when toasty brown and juices run clear. Drain on paper towels.
Take the potatoes out of the over and either serve whole or halved with the cinnamon butter melting into them. Put the chicken fingers on a platter with a bowl of the Mango salsa.