"More complicated than your normal chocolate chip cookie....but the result is well worth it. Every new member needs their special indulgence type recipe, and this is mine. Note that I tend to improvise, so the exactness of the amounts is questionable.. just don't go over 2 tsp on the cornstarch. These cookies are delectable warmed in the microwave or dipped in milk."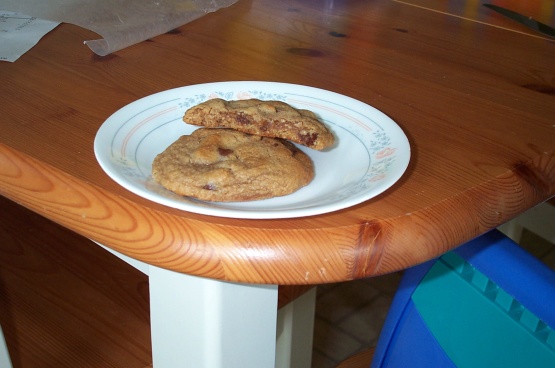 Complex Chewy Gooey Good Chocolate Chip Cookies
2 recipe photos
Directions
Preheat oven to 375°.
Whisk together cornstarch, flours, soda and salt.
Melt the butter completely, but do not burn it, in the microwave or in a saucepan.
Cream the butter extremely thoroughly with all three sugars. Cream until you can cream no more.
Add egg and egg yolk, beat for an excessive time again.
Add vanilla (yes, that really is a tablespoon) and milk, if using. Again, cream together thoroughly.
Add flour mixture slowly, stirring together. Add more all-purpose flour if the dough is liquidy, but it shouldn't be as firm as a traditional cookie dough.
Stir in chocolate chips.
Chill for 2-4 hours or until quite firm.
Drop by scant 1/4 cups or by a cookie dropper onto greased baking sheets, bake in your 375° oven for about 13-16 minutes, until done puffing and pale golden brown.
Do yourself a favor and eat one warm.