"From the Krusteaz website. I haven't tried them yet, but they sound like something my preschooler would enjoy! I think they'd also be a good dessert for after "breakfast for dinner" meals."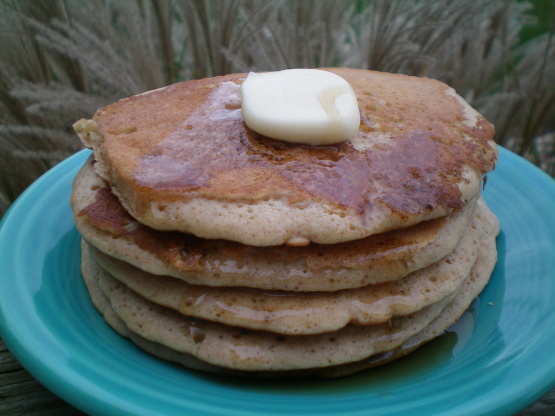 Cookie Pancakes (Chocolate Chip, Snickerdoodle, or Oatmeal)
1 recipe photo
2

cups buttermilk pancake mix (calls for Krusteaz brand)

1⁄4 cup light brown sugar, packed
1⁄4 teaspoon salt
1 1⁄4 cups milk

1

egg

3

tablespoons melted butter

1

teaspoon vanilla

For Chocolate Chip Cookie Pancakes

1⁄2

cup mini chocolate chip

For Snickerdoodle Cookie Pancakes

1

teaspoon cinnamon
additional butter

cinnamon sugar

For Oatmeal Cookie Pancakes

3⁄4 cup rolled oats (quick or old fashioned)

2

teaspoons cinnamon
Directions
Combine pancake mix, brown sugar, chocolate chips (or cinnamon or oats and cinnamon, depending on variety) and salt.
Add milk, egg, butter and vanilla.
Whisk together until blended; do not over mix (should still have a few lumps).
For each pancake, pour 2 tablespoons batter onto lightly greased hot griddle over medium heat (375* F on an electric griddle).
Cook 1 1/2 minutes per side, turning only once.
Garnish Snickerdoodle Cookie Pancakes with additional butter and sprinkle with cinnamon-sugar.
Garnish Chocolate Chip Cookie Pancakes with whipped cream and additional mini chocolate chips or as desired.
Garnish Oatmeal Cookie Pancakes with jam or as desired.