"Cracker Barrel brought back their famous double fudge cola cake for their 40th anniversary and I was able to give their version a try. It was quite different from most of the usual copycat recipes out there, so perhaps their current version has been somewhat adapted over time. There are no nuts in this version. I did base my version on one I originally found on copycat.com, and I think I have it just about right. Expect a very moist, rich, deep dark chocolate sheet cake with a very fudgey thick frosting."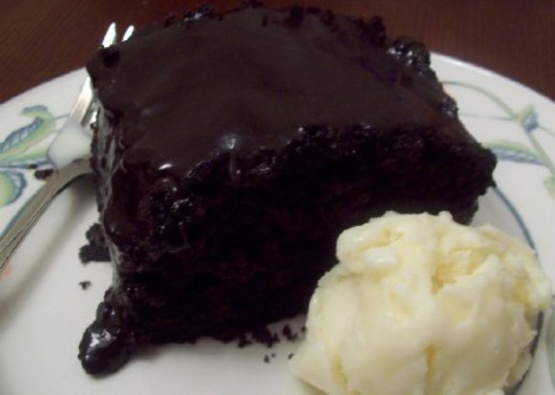 Copycat Cracker Barrel 40th Anniversary Double Fudge Cola Cake
1 recipe photo
READY IN:

2hrs 40mins

SERVES:

12

UNITS:

US
Directions
Arrange oven racks to that there is room for a 9x13" sized baking pan to fit on the TOP rack, allowing for room for the cake to grow; preheat oven to 350°F.
Grease and flour a 9x13" baking pan with deep sides.
Measure out just 1 cup of the Coke, setting the rest aside to use later in the recipe.
Place the measured Coke, just 1 stick of the butter, and the square of chocolate in a saucepan; heat, stirring often, until melted and mixture is boiling.
Stir in the marshmallows, lowering the heat a bit if needed, and continue to stir until the mixture is fully melted and combined together; Set this mixture aside to cool a bit.
In a large mixing bowl, combine shortening, oil, and only 2 tsp of the vanilla; Add the granulated sugar and mix well.
Add both eggs and the milk and beat well, using an electric mixer.
In another mixing bowl, combine buttermilk powder, baking soda, baking powder, salt; sift in the flour; Measure out just 3/4 cup of the cocoa powder and sift this into the flour mixture, stirring all of these dry ingredients together to blend.
Add HALF of the flour mixture to the shortening mixture, beating until smooth.
Slowly add some of the partially cooled fudge mixture, beating well.; Continue adding slowly and mixing it in carefully so you don't scramble the eggs in the batter; Once all of the fudge mixture has been added, be sure to beat the mixture well.
Add in the remaining flour mixture and beat for 4 minutes exactly, using a timer; Mixture should now be a thick and creamy batter.
Pour batter into the prepared pan and bake about 40-45 minutes, or until a toothpick inserted in the center of the cake tests clean.
Take your toothpick and poke holes all over the surface of the cake.
Allow to cool long enough to still be somewhat warm, but not so hot that the icing will melt instantly when placed onto the cake.
Take the remaining 1 stick of butter, the remaining 1 tsp vanilla, the remaining 1/2 cup cocoa powder, and the chocolate syrup and mix together in a small bowl.
Add in about 1/3 cup of the remaining Coke.
Add in the powdered sugar and blend well; it should be the consistency of hot fudge sauce - very thick, but not firm, but also not runny; If you need to add a bit more Coke or powdered sugar to adjust the icing to your liking, now is the time.
Pour the fudge icing evenly over the still warm cake, then allow to set for a while - the icing will ooze into the toothpick holes a bit and firm up slightly on the surface (although it will still be a quite gooey topping).
Serve cake still slightly warm or at room temperature, with a scoop of vanilla bean ice cream on the side if desired.