"I found this fantastic recipe in a cookbook simply called "The Vegetarian Cookbook". It is creamy and delicious. We usually like food that is super flavored and spicy, but this is delicious, simple comfort food. No crazy spices or herbs, but yummy! I'm pretty sure that between just my BF and I, we ate almost the entire pot in one sitting. It really is that good. Hope you agree! (As a helpful note, I once heard on the Food Network, that you should never cook with a wine that you are not wiling to drink.)"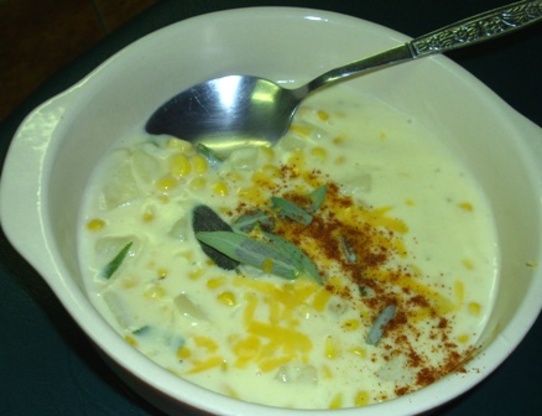 Corn, Potato and Cheese Soup
2 recipe photos
Directions
Melt butter in heavy-bottom pan over low heat.
Add shallots and cook, stirring frequently, for 5 minutes or until softened.
Add potatoes and cook, stirring for 2 minutes.
Sprinkle in four and cook, stirring constantly, for 1 minute.
Remove from heat and stir in the wine.
Return to heat and stir in the milk.
Bring to a boil, stirring constantly, then reduce heat to a simmer.
Stir in corn, cheese, chopped sage, and cream and heat through gently until cheese has just melted.
Ladle into bowls. Add croutons if desired and garnish with sage.