"These are SO good, I really should make them more than once a year! Upper Michigan (USA) has several small towns that were originally populated by Cornish miners who worked the mines there. Walking down Main Street in these towns will usually take you past a mom-n-pop cafe' where you can buy a pasty similar to this recipe. This makes 6 LARGE or 8 MEDIUM pasties--adjust the water** & butter depending on the size you choose. Recipe
Pasty Pastry for Cornish Miners' Pasties
will complete your trip down a Cornwall Main Street."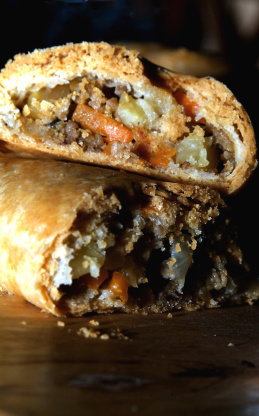 Cornish Miners' Pasties
3 recipe photos
1

lb ground beef (turkey or venison)

2

cups diced potatoes

2

cups diced carrots

1

cup diced turnip

1

medium onion, chopped

2

teaspoons salt

6 -8

tablespoons butter

6 -8

tablespoons water (see ** description)

2

tablespoons milk (more or less)

1

(10 ounce) can cream of mushroom soup (or leftover beef or chicken gravy)

0.5

(10 ounce) can milk
thyme, to taste
tarragon, to taste
Directions
Prepare pastry according to Recipe #230316 , set aside; preheat oven to 350.
Mix meat, vegetables and salt in large bowl; divide into 6-8 portions; set aside.
Divide pastry into 6 (large) or 8 (medium) equal pieces; roll each into a large circle, about 1/4-inch thick.
On one half of each circle, place equal amount of meat-veg mixture.
Carefully lift and fold pastry over filling (half circle); moisten edges of pastry with water & pastry brush; use a fork to crimp the edges to prevent liquid (added later) from oozing out. If there is a thin edge of crust, fold it over on itself to make a nice crust.
Transfer each pasty to a large baking sheet (I use two).
With a paring knife, poke a hole straight into JUST the top crust, shaped like an X, each leg should be about a half-inch long, then fold the little corners back (like a flower).
Melt butter and water in the microwave; pour equal amounts into each pasty (through the little flower-hole you've created in the previous step).
More butter-water can be added about half-way through the baking, if you didn't use it all at this point.
Brush tops of pasties with the milk.
Pop it all into the oven; bake for one hour; tops should be GOLDEN BROWN (you won't be able to let them in there much longer anyway--as the aroma is BEYOND this world!).
Serve with gravy made from the soup & a bit of milk; add your favorite herbs (thyme & tarragon are our favorites); just heat the soup & milk, sprinkle in the herbs & spoon over the pasty or into the little hole.
ALSO -- you might want to let these "rest" for a few minutes before eating---the insides will be VERY hot!
TIPS ON EATING THESE: Miners would've carried these in a lunch pail (wrapped in a dishtowel!) -- we serve 'em on plates and slather on the gravy AFTER cutting them open to release the steam & heat; the crust is especially delish with the gravy!