"My husband, being a true Texan, loves cornbread almost as much as he loves me. I was not a great cornbread baker, so I bought The Cornbread Gospels by Crescent Dragonwagon to learn how to make his tummy happy, and what a great book that turned out to be. Every form and fashion of cornbread you can imagine, and (almost) all good. This recipe is from that book, and has earned rave reviews everywhere I have taken it. It's beautiful, and the essences of orange and cranberry combined with the crunchiness of stone ground cornmeal sets it apart from other quick breads, and it will leaving you wanting more. I hope you like it as well as we do."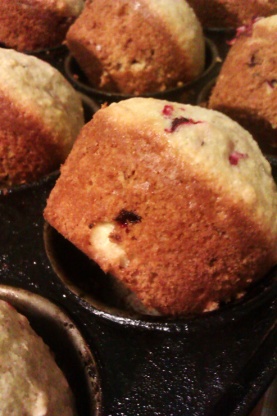 Cornmeal-Oatmeal Cranberry-Orange Loaf
5 recipe photos
Directions
Preheat the oven to 350. Coat 1 large, 2 medium, or 3 small loaf pans with oil.
Soft the flour, cornmeal, baking powder, baking soda, sugar, and salt into a large bowl.
Whisk together the eggs, oil, buttermilk, and orange zest in a second, smaller bowl.
In a food processor, pulse the cranberries a few times until they are roughly chopped. Combine the mix-ins--the cranberries, walnuts, and oatmeal--in a third bowl. Sprinkle 1 tablespoon of the flour mixture over them, and toss well.
Quickly combine the flour mixture and the egg mixture, using as few strokes as possible. Gently stir in the mix-ins. The batter should be stiff. Spoon the batter into the prepared pan(s). Bake for 45 to 55 minutes for the large pan, 35 to 50 minutes for the mediums, and 35 to 40 minutes for the smalls. Check two-thirds of the way through the baking period; if the loaves are browning excessively, tent them loosely with foil.
Let the baked breads cool for 10 minutes in the pan(s), run a thin knife around the edge of each pan, and turn the loaves out. Let finish cooling on a rack.
NOTE: When using cirtrus zest, try your best to get organic fruit, because it is free of the waxes and fungicides that are routinely sprayed on conventionally grown citrus fruit peels.