"Honest to goodness, these are THE best baked beans I have ever had. I'm tossing any and all recipes I have held on to and replacing them with this one. The recipe comes from my husband's cuz Ellen. She got the recipe from her grandmother who got it from her mother (that would be Ellen's great grandmother) in case your keeping track. Now cousin Ellen is 60y/o...... as you can see, this recipe has been in the family 4EVER! Update: 8/2010 Please don't attempt to make this in a crockpot, I did and it never thickened and got yummy ooey gooey the way I like it. It tasted great but this is best baked in the oven, long and slow! I have successfully halved this recipe many times. Enjoy!"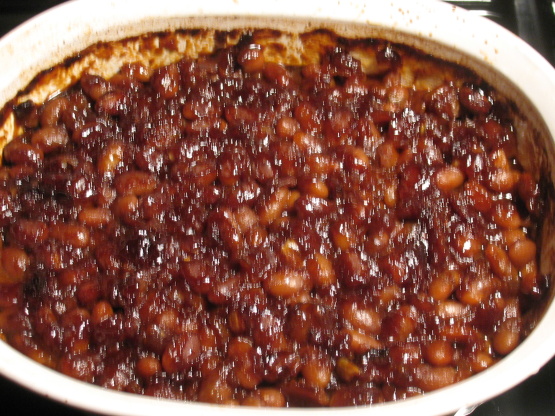 Cousin Ellen's Baked Beans
1 recipe photo
READY IN:

3hrs 30mins

SERVES:

12

UNITS:

US
Directions
Preheat oven to 350°F.
Spray 9x12 baking dish w/ nonstick spray.
Slice the uncooked bacon into 1 to 2" pieces.
Fry lightly over medium heat , stirring occasionally, until it begins to crisp up around the edges.
Scoop out the bacon and set aside in a bowl. Do NOT drain.
SAVE the bacon grease that is in the skillet. (optional, see step below).
Throw the onions into the skillet with the bacon grease and cook long enough to wilt them a bit. Stirring them around in the hot grease a couple of minutes or so.
NOTE: You have 2 options here: 1) remove the cooked onions and reserve them for the recipe or 2) add both the onions & bacon grease to the recipe. I found no difference, one way or the other, so I toss it.
Combine the first 5 ingredients into a large bowl: beans, water, dark brown sugar, corn syrup and ketchup. Stir.
Add the onions AND the grease from the bacon pan. Stir gently until mixed with bean mixture. Add 1/2 of bacon to the beans, stir to combine.
Pour mixture into a 9x 12 prepared baking dish or any oven safe serving dish.
Top with the remaining bacon pieces.
Bake UNCOVERED for approximately 3 hours at 350°F . Watch so that it doesn't dry out. It will be thick and look very dark and almost caramelized when it is done.
NOTE: You can stretch the recipe by adding an additional can or 2 of beans without compromising the end result. No need to add any other ingredients.
I DO NOT recommend making this in the crock pot.