"Not soup with dumplings in it, but dumplings with soup in them. This is a famous kind of steamed dumpling for dim sum. You bite a little hole in the dumpling, then carefully sip the scalding hot broth out of it, then dip the rest of the dumpling in a dip and eat. It's amazing how they get it inside-out like that. I have just learned, from a cookbook called "Dim Sum and Other Chinese Street Food" by Mai Leung, that the secret is to gel some broth with agar-agar and seal the solid broth inside the dumplings. When the dumplings are heated, the broth liquifies again, so you get dumplings full of soup. I haven't tried this recipe yet, but I don't usually make my own dim sum, so I thought I'd go ahead and post it for those who do. She says you can only make these a few hours in advance, and if you do, you should refrigerate them before steaming."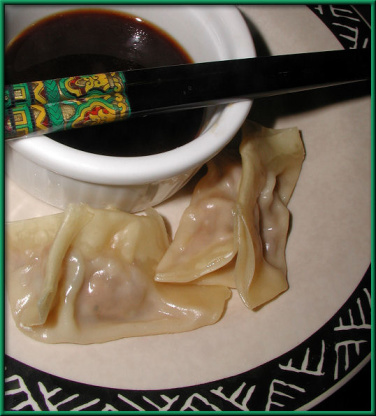 Crab "soup Dumplings" (Dim Sum)
1 recipe photo
1

cup dried agar-agar, loosely packed

2

cups chicken broth, clear

Filling

1

cup crabmeat, fresh or frozen. drained on paper towels

4

ounces shrimp, shelled, deveined, cut into pea-sized pieces

4

ounces lean pork, cut into pea-sized pieces

5

dried Chinese mushrooms, soaked in hot water until spongy, stems discarded, caps cut into small squares

1⁄2 teaspoon salt
3⁄4 teaspoon sugar
1⁄8 teaspoon white pepper

2

tablespoons soy sauce

2

teaspoons sesame oil

Wrappers

1 1⁄2 cups all-purpose white flour

1

egg, beaten

Dip

1⁄4 cup fresh ginger, finely shredded
1⁄4 cup Chinese red vinegar

2

tablespoons black soy sauce
Directions
Hours or a day before making the dumplings, cook the agar-agar in the chicken broth until completely dissolved. Pour into a shallow dish. Cover and refrigerate for a few hours until it gels.
Mix all the filling ingredients.
Dice the gelled agar-agar/broth into small pieces and mix with the filling ingredients.
Refrigerate this mixture.
To make the wrappers:.
Mix flour and egg.
Add water a little at a time until a soft but not sticky dough is formed.
Knead until dough is smooth and elastic.
Roll the dough into a long sausage, 1 inch in diameter.
Cut the dough into walnut-sized pices, then roll them into round balls; cover the balls with a damp towel.
You are now going to make crescent-shaped dumplings.
Dust your work surface with a little flour.
Roll a piece of dough into a paper-thin circle.
Put about a tablespoon of filling (now including the gelled broth) in the center of the circle.
Fold the circle in half to look like a half-moon.
Pleat the top curved edge.
Pinch the pleated edge and the unpleated edge together to seal.
Gently tap the crescent's round bottom so that it can stand up.
Place the crescent-shaped dumpling between towels.
Make the remaining crescents in the same way.
Place a layer of cheesecloth in the bottom of a steamer.
Arrange the crescent dumplings on the cloth.
Cover and steam over high heat for 10 minutes.
Serve hot with ginger-vinegar-soy dip.
To make the dip:.
Mix all dip ingredients in a serving bowl, cover, and allow to stand at room temperature for at least 10 minutes before serving; it should keep for hours at room temperature.
get the genius kitchen app.
Watch on your iPhone, iPad, Apple TV, Roku, or Fire TV.
Learn More