"Oh....my....LAND!!!! The Oregon Blackberry Council published this little gem of an hors d'oeuvre recently. Holy cow! We're all going to have to RUN out and buy some more blackberries TODAY! Worth the trip."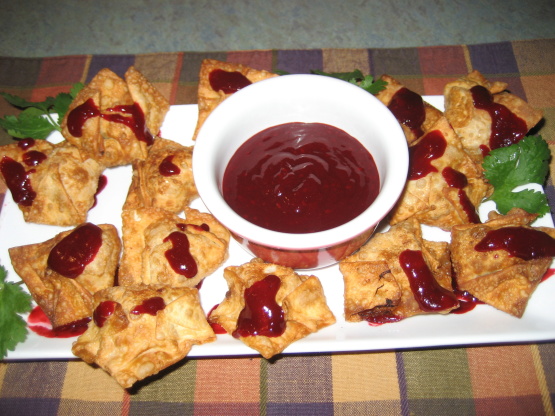 Crab Wontons With Szechuan Blackberry Sauce
1 recipe photo
Directions
To make the sauce, puree blackberries and mix with remaining sauce ingredients in a medium saucepan; bring to a boil or medium-high heat. Cook until thickened. Sauce may be made a day ahead.
To make the filling, wash the spinach. With water still clinging to leaves, place in a large pan over medium-high heat. Cook until spinach just begins to wilt and most of the water has evaporated. Empty onto a cutting board and chop fine. Set aside.
Melt butter in a saute pan over medium heat. Add onion and saute until translucent, about 5 minutes. Reduce heat to low; add cream cheese. When cheese begins to soften, add lemon juice and mix. Remove from heat and stir in crab, bread crumbs and spinach.
To assemble, place 1 to 2 teaspoons filling on each wonton wrapper and seal according to package directions.
Heat about 1/4 inch of peanut or vegetable oil in a wok or sauté pan until hot but not smoking. Place a single layer of wontons in the hot oil and fry 2 to 3 minutes until golden brown. Drain on paper bags or towels.
Serve immediately, drizzled with sauce.