"This was developed from Mikekey's
Cranberry-Almond Biscotti
as I wanted to have a healthier version especially considering diabetes and fat."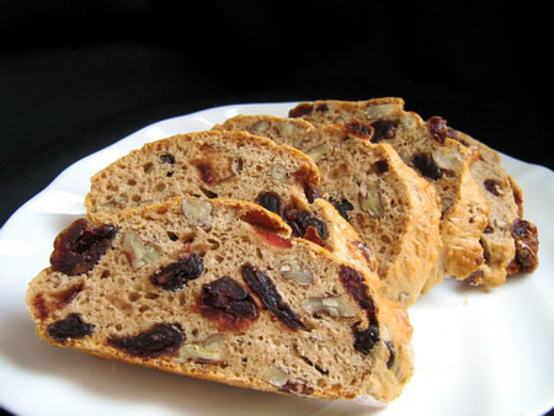 Cranberry -Almond Biscotti Light/Diabetic Version
2 recipe photos
Directions
Preheat oven to 325ºF.
Combine dry ingredients in a medium mixing bowl.
Beat egg substitute, egg white, and vanilla in a separate bowl until frothy.
Add egg mixture to dry ingredients, mixing just until moist, using an electric mixer on medium speed (I used a whisk).
Add almonds and cranberries; mix thoroughly.
On a floured surface, divide batter in half, knead 4 times by folding over, and pat each half into a log about 14 inches long and 1 1/2 inches wide.
If you find the mixture is too dry, add 2 tbs of fat free evaporated milk.
Place on a cookie sheet and bake in oven for 30 minutes.
Cool on wire rack.
Reduce oven temperature to 300ºF.
Cut biscotti into 1/2 inch slices. Stand upright on cookie sheet and bake another 20 minutes.
Let cool and store in a loosely covered container.