"This recipe was found in the 2001 As You Like It Cookbook. Preparation time does not include the time needed for the finished mixture to freeze."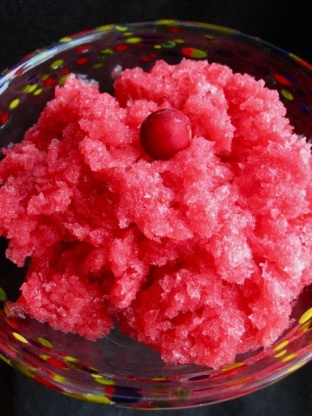 Cranberry Sorbet
4 recipe photos
Directions
Place all the ingredients EXCEPT 2 cups of the orange juice in a blender & blend until smooth.
Transfer mixture to a 2-quart saucepan over medium heat & bring to a boil.
Remove from heat, add remaining 2 cups of orange juice & mix well.
Pour mixture into a flat plastic 2-quart container & place in the freezer.
When mixture is completely frozen, cut it with a sharp, sturdy knife into 1 1/2 inch cubes.
Place cubes in a food processor & process until completely pulverized, then serve immediately or place in a plastic container & return to the freezer until ready to use.