"Corn on the cob barbecued to sweet perfection in it's own husk. Non corn enjoyers have loved this tasty recipe. Try serving with
Simply Grilled or Baked Potatoes
for a great BBQ'd feast!"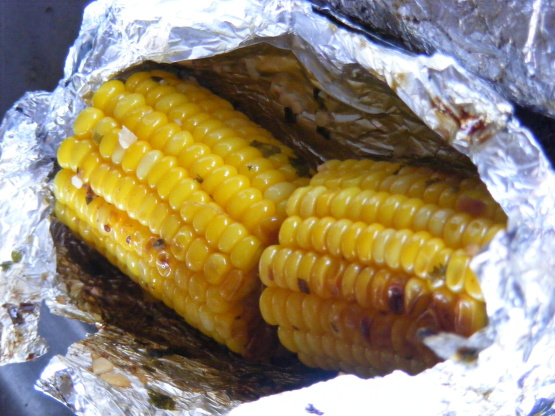 Crazy Easy Corn (On the Cob)
9 recipe photos
4

corn on the cob (with husks)

59.16

ml garlic butter (room temperature, divided 4 ways)

19.71

ml seasoning salt (divided 4 ways)

9.85

ml ground black pepper (divided 4 ways)
Directions
- Pull husks down without removing them. Pull off the silk and throw out. Stand corn up in a bowl cover the pulled down husks and soak in water for 10-15 minutes.
- Hold the cob at the end and spread 1 tablespoon of garlic butter (each cob), sprinkle with salt and pepper.
- Pull husks back up over cob.
- Roll each cob in a sheet of foil twisting on the ends.
- BBQ or Bake (in oven place on a baking sheet) 350 degrees for 20-25 minutes (turning every 5 minutes).
- Remove foil and husks, discard and enjoy.
*All steps can be done ahead of time up to cooking (refrigerate until ready to cook). This is a great time saver for camping, company or just because.
*Depending on your taste you could also sprinkle on a small amount of cumin OR smoked chili powder.
Terrific pared up with recipe#369273.