"I came up with this the other night after being chilled to the bone from a broken furnace at the office. It is a definite chill chaser. This and a crunchy crusted piece of garlic toast is a meal in itself."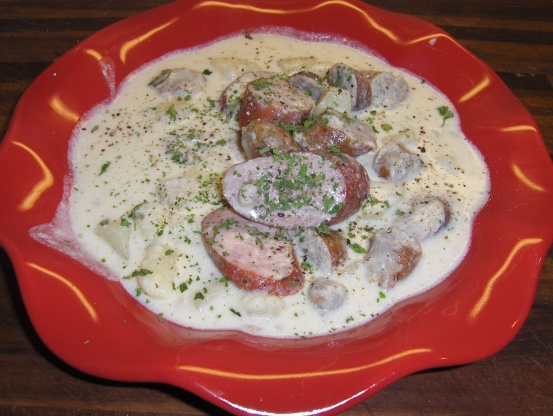 Creamy Bratwurst and Potato Soup
1 recipe photo
Directions
Melt butter in Dutch oven.
On medium low heat, sweat onion, garlic, and potatoes.
Season with white pepper and salt.
Potatoes will begin to form a slurry from their starch. This is normal.
Continue to sweat until potatoes begin to soften, adding liquid if necessary (beer, white wine, broth,etc).
When potatoes have softened, add milk,cream and nutmeg and bring to slow simmer.
From this point on, do not allow to boil. Only allow a slow simmer.
After returning to simmer, slowly add grated cheese and melt into mixture.
Add bratwurst, return to simmer, and simmer 30 minutes.
Salt and pepper to taste.
If soup is too thin, or if soup has accidentally come to a boil and broken make a slurry made of 3 parts milk or water to 1 part flour and add a little at a time to the simmering soup allowing it to thicken before adding more.
Stir in parsley.
Serve with your favorite salad and/or fresh garlic toast.