"This is a one-of-a-kind potato soup. Creamy soup base with a few veggies mixed in and great baked potato toppings! I will write it as I learned it but I do sub lots of light things and it is still wonderful. NOTE: THE KEY TO THE DIFFERENT TASTE IS THE GARLIC POWDER,CREAM CHEESE, VELVEETA AND THE BLEND OF VEGGIES. Please let me know how you like this and please tinker with the amounts as I have done this from memory."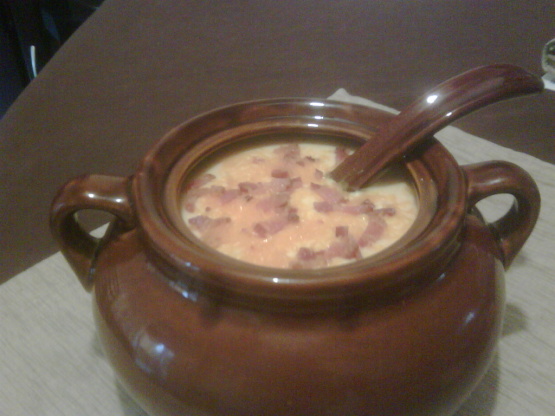 Creamy Potato Soup With All the Fixings
4 recipe photos
Directions
Peel and cut up the potatoes.
Cut the half carrots in half.
Cut up the celery into bit size pieces.
Let boil until all are tender.
Drain and put all the cooked veggies back into the pot.
Now add the butter, 1/2 the milk, half and half and cream cheese into the veggies.
Use a mixer to make the veggies like mashed potatoes.
Add rest of the milk and cream until you get the desired consistency you want the soup -- I like it a bit thick, not really thin soup.
When you get it to the way your family likes it, then add salt, pepper, and garlic powder.
Taste and adjust accordingly.
Let simmer for 15 minutes.
Now you are ready to top it with what you like.
Enjoy.