Want more from Genius Kitchen?
Watch on your Apple TV, Roku, or Fire TV and your iOS, Fire, or Android device.
Learn More
"Sourdough is believed to have originated in Ancient Egyptian times around 1500 BC, and was likely the first form of leavening available to bakers. (UPDATE 05/29/2010: In order to avoid problems with mold, I've modified my recipe to follow the advise of Peter Reinhart (author of The Bread Baker's Apprentice) and recommend using pineapple juice the first two days of fermentation.) NOW, There are a few simple rules to follow when making your own sourdough starter. First, because it is a living organism, never use metal bowls, containers or spoons. When storing the starter, use only glass, crockery or plastic containters with a lid. The container size should be 3 times the volume of the ingredients (to allow expansion). Note: If the jar has a metal lid, poke a hole in the lid and put plastic wrap over the top of the containter. It's very important that it's 'home' be kept clean-- wash and sterilize the container periodically, and again, remember, no metal should ever touch the starter."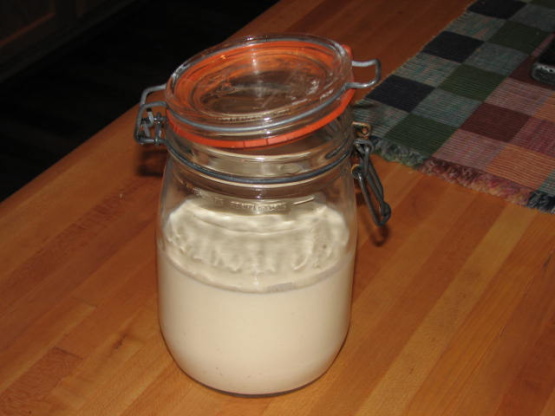 Creating Your Own Sourdough Starter
4 recipe photos
1⁄4

cup canned pineapple juice (room temperature)

1

cup bottled water (80 - 85 degrees F)

1

cup bread flour

2

tablespoons dark rye flour
Directions
Please note that the process is simple, but will take anywhere from 3-5 days to develop.
Day One: Pour 2 tablespoons of pineapple juice into a large clean glass bowl or jar. (Use a bowl or jar that will hold 3 times the volume, as the starter will double in bulk during the fermentation process.).
Stir in 2 tablespoons bread flour.
Cover container with plastic wrap and set in a warm draft-free area; 70-80 degrees Farenheit is perfect. Hotter temperatures (95-100 degrees) will kill it.
Stir at least twice daily.
Day 2: To the starter container add 2 tablespoons pineapple juice and two tablespoons bread flour and stir thoroughly. Cover with plastic wrap and set in warm place.
Stir at least twice daily.
Day 3: To the starter container stir in 2 tablespoons WATER and two tablespoons RYE flour and stir thoroughly. Cover and set in a warm place.
Repeat Day 3 if necessary, using bread flour -- When your starter develops a bubbly froth, usually about 3 to 4 days, it is done. You have succeeded -- this can take up to 7 days in some areas,.
The starter is now ready to use or may be stored in the refrigerator in a covered jar.
CARE AND FEEDING OF YOUR SOURDOUGH STARTER:
The starter will get better with time, so take good care of it!
If the starter is not used at least every 14 days, then it must be 'fed'.
To feed, pour 2 or 3 tablespoons of the starter into a clean glass bowl (discarding or give away the rest).
Stir in 1/2 cup of lukewarm water and 1/2 cup of flour into the starter.
Cover bowl with plastic wrap or towel and place in a warm draft-free place for 12 to 24 hours, stirring at least every 12 hours.
After 24 hours, the starter should have a plesant sour (yeasty/beer) aroma and is ready for use or may be poured into a clean glass or plastic container, with a lid, and refrigerated for future use. The starter should be used every 7 - 10 days.
When Ready To Bake: Remove two tablespoons of starter, add equal amounts of flour and water to obtain the amount of starter required for the recipe (plus slightly more to replenish the starter). As an example, if the recipe calls for one cup of starter, remove a couple tablespoons of the active starter, stir in a little more than one cup of bottled water and 1 cup of flour. Adjust the water/flour as needed, the consistency should be similar to pancake batter.
get the genius kitchen app.
Watch on your iPhone, iPad, Apple TV, Android, Roku, or Fire TV.
Learn More