Want more from Genius Kitchen?
Watch on your Apple TV, Roku, or Fire TV and your iOS, Fire, or Android device.
Learn More
"New York Times, June 3, 2009 The hallmark of a perfect Wiener schnitzel, opined the epicure Joseph Wechsberg, is a slice of veal with breading "so dry you could sit on it without having a fat stain on your pants." I've clung to this image since I read it in Mr. Wechsberg's classic 1953 book, "Blue Trout and Black Truffles." Why anyone would ever sit on a schnitzel to test it in the first place wasn't clear, but I liked the notion of such a greaseless fried morsel of meat. Years later, an Austrian chef, Mario Lohninger, gave me a schnitzel lesson. (He and I worked on a cookbook together.) I thought I knew what was what. "They say you should be able to sit on a schnitzel without getting grease on your pants, right?" I said with authority. Mr. Lohninger raised an eyebrow. "Maybe they sit on schnitzel in Vienna," he said. "Where I come from we prefer a crisp, light schnitzel with a crust that rises like a soufflé." The secret, he said, is to trap air in the crust when you cook the meat by moving and shaking the pan. After dipping the veal in flour, egg and bread crumbs, he put a cutlet in the skillet, swirling it so the hot oil undulated over the cutlet in waves. This motion creates steam that lifts the crust away from the meat, allowing the bread crumbs to crisp without sticking to the veal in a gummy mass. Indeed, his schnitzel was a golden, gorgeous thing, with a puffy crust that shattered at the touch of a fork, and tender meat within. He served it with cucumber salad and lingonberry jam. Years went by, but when my next schnitzel craving hit, it hit hard. I wanted crumby, crisp, fried meat for dinner, and would not be denied. What I didn't want, however, was factory farm veal. I know there is humanely raised veal available in New York, but not at my local market. I chose cutlets of free-range chicken instead. Because the cutlets were not quite one-eighth-inch thick — the proper thickness for schnitzel, according to Mr. Lohninger — I pounded them a little with a rolling pin. Then, without handling them too much, I gently dipped them in flour, egg and bread crumbs. When they were all nicely coated, I dropped a cutlet in hot oil, swirling the pan as instructed. The meat puffed slightly and browned beautifully. The chicken was soft and savory (thanks to a pinch of cayenne and nutmeg) beneath the ultra-crisp crust. I served it with a bright herb-laden salad. The schnitzel passed Mr. Lohninger's soufflé test easily, and you don't have to sit on any cutlets — unless you're into that."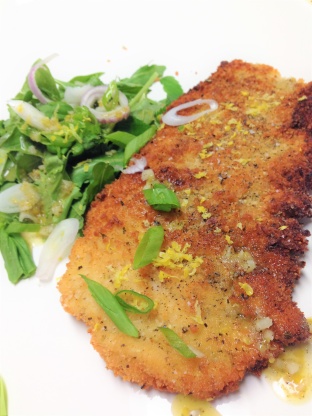 Crisp Chicken Schnitzel With Lemony Spring Herb Salad
2 recipe photos
READY IN:

30mins

SERVES:

3-4

UNITS:

US
1

small garlic clove

kosher salt & freshly ground black pepper

1

lemon, zest of, finely grated
2 1⁄2 tablespoons fresh lemon juice

7 -8

tablespoons extra virgin olive oil, to taste

2

eggs, beaten
1 1⁄2 cups panko breadcrumbs or 1 1⁄2 cups other unseasoned breadcrumbs
1⁄2 cup flour
1⁄8 teaspoon cayenne
1⁄8 teaspoon freshly grated nutmeg
1 1⁄4 lbs chicken cutlets, pounded to 1/8-inch thick

safflower oil, peanut oil or vegetable oil, for frying

2

quarts mixed baby greens

2

cups soft herb leaves like a combination mint, tarragon, basil, parsley, cilantro, chervil, chives (try to use at least 3 kinds)

1

scallion, thinly sliced, including greens
Directions
Mince anchovies and garlic and mix with a large pinch of salt until you get a rough paste. Put it in bowl and whisk in the lemon zest, juice and another pinch of salt and some pepper. Slowly drizzle in the olive oil.
Place eggs in one shallow dish, bread crumbs in another, and flour mixed with cayenne and nutmeg in a third. Season chicken cutlets generously with salt and pepper.
Heat 1/8 inch oil in a large skillet. While oil heats, dip cutlets one by one into flour (shake off any excess), then into eggs (ditto) and finally into the bread crumbs, taking care not to handle chicken more than necessary (hold meat by ends).
When oil sizzles when a pinch of bread crumbs is thrown in, add a chicken cutlet (or two if your skillet is large, leave plenty of room around them). Swirl pan so oil cascades over top of cutlet in waves. When bottom is golden brown, about 3 minutes, flip and brown the other side, swirling pan (swirling helps create air pockets, giving you lighter schnitzel). Transfer to a paper-towel-lined baking platter or baking tray and sprinkle with more salt. Repeat with remaining chicken.
Toss salad greens and herbs with just enough anchovy-lemon dressing to lightly coat them. Divide salad on serving plates and top with schnitzel. Drizzle with more dressing and garnish with scallions.
get the genius kitchen app.
Watch on your iPhone, iPad, Apple TV, Android, Roku, or Fire TV.
Learn More