"This is one of the simple meals, but also rich with flavour, spices and satisfactory for your stomach. You can use any kind of "frutty di mare", or pieces of fish."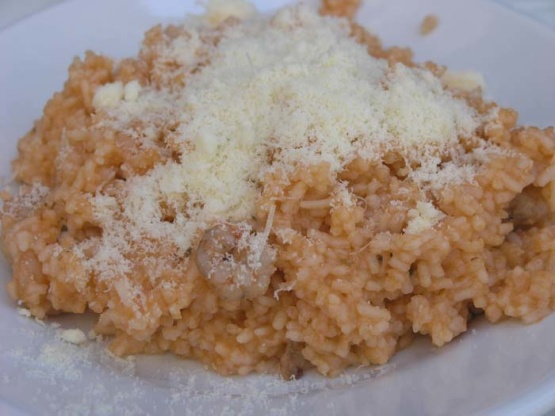 Croatian Dalmatian Red Risotto (Fisherman's Risotto)
2 recipe photos
Directions
Put olive oil in a pan, add garlic and sauté it for 30 sec, than add shrimps, squid and mussels and sauté it for 3 minute
Add rice and let it be covered with oil and than add wine and cook it 2 minute until alcohol evaporates.
Add tomato juice, salt, pepper, oregano and water. Mix everything and leave it cook for 15 minutes.
If there is not enough water add only hot water. Before end (that's on you to decide) add hard cheese to melt in risotto.
Serve hot and sprinkle with parmesan. Risotto must be creamy and resemble to sea during strong south-east wind in Adriatic: "jugo".