"Classic laminated dough for croissants, pastries and other flakey baked items. This recipe is my take on several recipes, but heavily influenced by Peter Reinhart's recipe in Artisan Bread Every Day. The long resting times are not reflected in the preparation or cooking times given here. The butter can be increased to 10 ounces or 2.5 sticks for a richer croissant with slightly better crumb."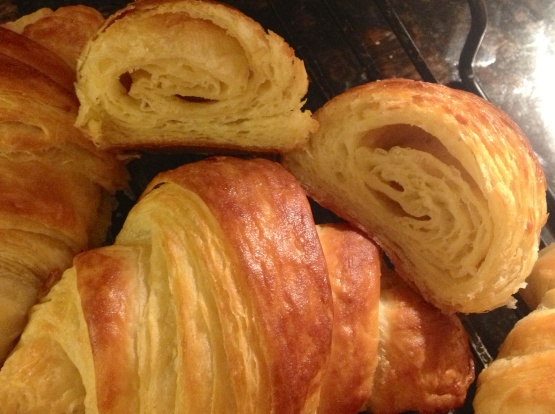 Croissants and Puff Pastry
8 recipe photos
Dough

946.36

ml all-purpose flour (514 g unbleached)

29.58

ml sugar (26 g)

9.85

ml salt (scant teaspoons or 10 g)

14.79

ml instant yeast (scant tablespoon or 8 g)

177.44

ml milk (170 g)

158.51

ml water (room temperature, 151 g)

14.79

ml butter (softened, 12 g)

Butter Block

226.79

g butter (2 sticks, unsalted or 228 g)

1

egg (mix with 1 tablespoon water for optional egg wash)
Directions
Mix the dough ingredients until well mixed, place in greased, covered bowl and refrigerate overnight. It's not necessary to knead the dough unless for a few times to mix the dough.
Wrap 2 sticks of butter touching in plastic wrap. Pound with a rolling pin until the butter block is 5 by 6 inches. The butter should be cold but pliable. Test by poking a finger to see if an indention is easily left.
Lightly flour the counter and dough and roll dough out to a 5.5" by 12.5" rectangle. Brush off the flour and place the butter block on half the dough and fold the other half over. Seal the dough around the butter.
Adding a little flour and tapping the top of the package with the rolling pin, roll the dough out into an 8" x 18" rectangle. Brushing off the flour, fold the dough over letter-style to make 3 layers in an 8" x 6" bundle.
Wrap the package and chill for 30 minutes in the fridge.
Roll the dough stretching the longer side out until the rectangle is 8 by 18" again. Triple fold again, wrap and chill for 30 minutes.
Repeat this one more time, chilling the package for 30 minutes.
Take the dough our and roll it into an 8" wide, 28" long rectangle, trimming off excess.
Divide this dough into 7 rectangles, 4" wide and 8" long. Divide each rectangle diagonally so that there are 14 triangles, 4" at the base and 8" to the tip.
Take each triangle and make a 3/4" slit half-way along the base. Stretch the triangle from base to tip and at the base. Rolling from the base, roll each croissant up and place on cookie sheets or baking pans lined with parchment. Spray the parchment lightly with oil first.
Preheat the oven to 450F, but drop to 375F when croissants go into the oven.
Cover the croissants with oiled plastic wrap and let rise for 60 to 90 minutes until it's risen 1.5 times its volume.
If a shiny surface is desired, brush lightly with an egg wash.
Bake at 375F in the upper portion of the oven for 12 minutes. Rotate the pan and bake for 12 to 15 minutes more or until browned and 205 F internally.