"Easy, quick, versatile and tasty! I found this recipe in an old cook book I picked up in a charity shop years ago. This is now my 'default' desert recipe. Use it over your favourite fruits. A couple of tips: Quantities: Flour:Butter:Sugar=2:1:1 (e.g. 6oz flour to 3oz butter and 3oz sugar). Stick to the order in which ingredients are added as described below (flour, then butter, then sugar). Vanilla sugar gives the recipe extra flavour as does a drop of vanilla extract before adding the sugar. The mix is quite sweet on its own so when preparing the filling don't over-sweeten. Enjoy!"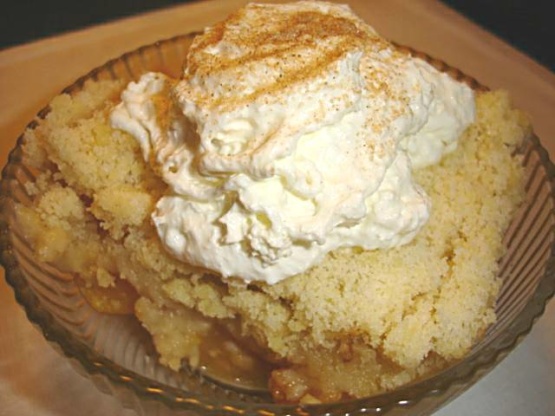 Crumble mix
1 recipe photo
Directions
Measure flour into a microwave-proof bowl.
Add the butter to the flour (just plonk it in in one big lump if you want!) Pop bowl with butter and flour in the microwave for between 10 and 20 seconds to soften butter.
Use a fork to blend flour and butter until the mix texture resembles breadcrumbs.
Add sugar and mix together with a fork.
Sprinkle over crumble filling of your choice in an oven-proof pie dish (Apple and rasin, rhubarb and ground ginger, peaches and raspberries are some of my favourtie fillings. Fresh fruits will need to be par-cooked- pop in microwave covered and with a spoon or two of water after peeling/chopping for a few minutes- before spri) Bake in oven at 180 degrees Celcius for about 30 minutes.
Serve hot or cold with fresh cream or ice cream.
YUM!