"My Oma & I combined her Nusskuchen recipe and my DD's egg-free diet to create this lovely, dense macaroon/biscotti-type dough. The original German "nutcake" recipe calls for no less than 7 eggs, which we substituted here w/7x 1 Tbsp flax : 3 Tbsp water. Our hesitation was replaced by an eagerness to "mach es noch ein mal!", which I've done tonight, this time taking the time to convert the European measurements. Enjoy!"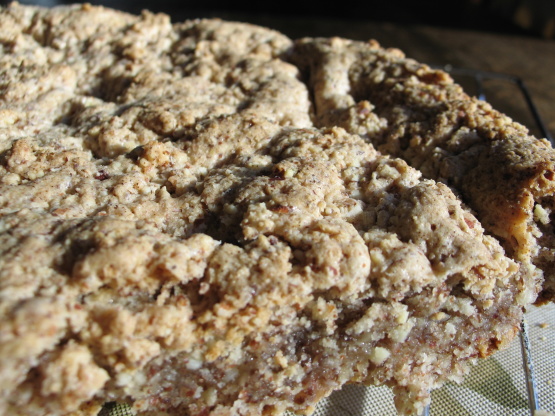 Crunchy, Chewy Flax & Almond Macaroons (Egg-Free)
2 recipe photos
Directions
Whisk the first two ingredients together in a bowl and let stand at least 2-3 minutes before use.
Using a hand mixer, beat the sugar & 5 T. hot water together in a large bowl for 2-3 minutes (to allow some of the sugar to "melt").
Gradually add the flax mixture and all the rest of the ingredients. Mix well.
If making as biscotti or chewy bars, grease and flour an 8x11" baking tin (as per kokeshi doll below) or a 10" round springform pan before adding the dough. Bake at 350F for 40 minutes. Remove promptly to a wire rack.
If making as cookies or macaroons, grease and flour a cookie sheet before placing 1" balls of dough approximately 1 1/2 inches apart. Bake at 350F for 25-30 minutes. Remove promptly to a wire rack.
NB If you want these to be chewy, do not allow them to brown at the edges. Otherwise they will be as hard as hockey pucks!
PS I preferred using my Bosch Kitchen Machine (the large bowl & dough hooks) to a hand mixer for this heavy batter.