"A friend lent me her British cookbook, The Usborne Children's Book of Baking. I couldn't resist these fun-looking PB cookies! I made them with my 3-yr-old -- she loved rolling and patting the doughballs into the rice cereal! (I've doubled the recipe here.)"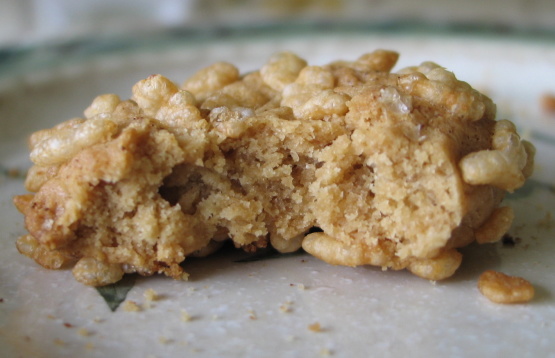 Crunchy Peanut Cookies (With Rice Krispies Coating!)
2 recipe photos
Directions
Heat the oven to 190C (375F, Gas Mark 5) and lightly oil two baking trays.
In a mixing bowl, beat the butter and sugar until creamy.
Add the egg a little at a time, beating after each addition to stop the mixture from getting lumpy.
Add the peanut butter and beat until well-mixed.
Sift the flour and baking powder over the mixture. Stir everything together.
Pour the puffed rice cereal into a bowl. Scoop up a heaped teaspoon of the mixture and shape it into a ball with your hands. Put it on top of the cereal.
Roll the ball in the cereal to completely cover it in rice cereal; press gently and slightly flatten the balls. Continue to make balls with all the rest of the dough, placing them on the baking tray as you go.
Bake the cookies for 18-20 minutes. Leave them to cool for five minutes. Then use a spatula to move them to a wire rack to cool completely.