"My family flipped over this light and airy salad we had for Easter. DH loves salads, but not asparagus & broccoli, so I created this to get DH to eat more green vegetables. He went back for SECONDS! Although most ingredients can be added to or omitted, it's important to have a base salad of romaine and cabbage to give it that extra crunch. I like the light Sweet/Sour dressing best, but it's also delicious with Caesar dressing, so try other dressings if you like. (For dieters, omit the bacon pieces, almonds, and olive oil; the salad will still be delicious)"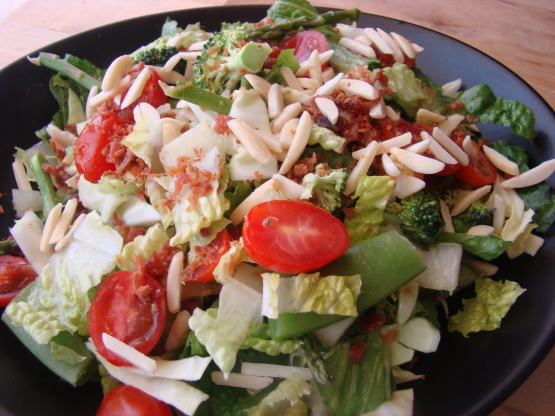 Crunchy Triple-Green Salad
1 recipe photo
Directions
SWEET/SOUR DRESSING: Mix all ingredients together and shake well to mix.
SALAD: Cut romaine lettuce across the head into 1/2 inch strips. Then cut strips in thirds.With knife, slice very thin slices from head of cabbage, forming long strings; cut cabbage strings into thirds.(Do NOT use food processor or grater for this process, as they won't toss as well with the romaine.).
*** Note: The lettuce and cabbage should toss together so well that (after adding all the ingredients) some people may not realize that the salad has cabbage in it.
After snapping off tough end, cut asparagus into 1-inch pieces. Microwave on High for 30 seconds. Rinse in cold water and drain.Add to bowl.
Remove stings, if any, from sugar snap peas. Microwaveon High for 1 minute. Rinse in cold water and drain well. Add to bowl.
Cut florets from top of broccoli. Chop into small pieces. Add to bowl.
Add all other ingredients, except tomatoes. Refrigerate.
Just before serving, add the tomatoes and most (if not all) of the Sweet/Sour dressing; toss to mix well. Serve within 30 minutes after dressing has been added.
ALTERNATE INGREDIENT ADDITIONS: Red bell pepper strips, thawed green peas, cauliflower pieces, radish slices, julienned yellow squash, or thinly sliced and quartered cucumbers. Just keep ingredients light, airy, colorful, and similar in size so that no one ingredient is visually dominant.(Sugar snap peas should be the largest ingredient, and you may cut these in half if you wish.).