"This bread is absolutely amazing!!! I started with the basic dough from the book "Artisan Breads in 5 Minutes a Day" and then started to play around. This is a deliciously sweet (not too sweet, though) bread loaded with nuts and cranberries and then topped off with brown sugar and almond crust. This is very close to the bread from "When Pigs Fly" except it doesn't cost $7 a loaf. This comes together very easily, so don't let the long list turn you off. This makes 4 loaves. The original recipe could be set aside in the fridge for up to 2 weeks, allowing you to make a loaf when you liked. I'm not sure this would work, since I haven't tried it. Also, I like to use non stick foil, but feel free to use a pizza stone instead (with corn meal to avoid sticking). UPDATE: I have changed the order around a bit, since it seems that there was an unexpected fermentation between the yeast and the cranberries."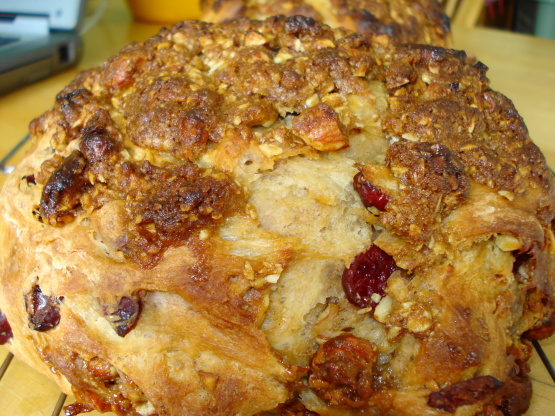 Crusty Cranberry Bread With Caramel Almonds (Almost No Knead)
3 recipe photos
Directions
For the caramel almonds: In a nonstick saucepan heat the ingredients for the caramel almonds over med. high heat for about 8 min until thick and bubbly. Spread out on a non stick pan, and cool in the fridge. Once cool seperate into little pieces and leave at room temperature.
For the dough: In a VERY large bowl add the yeast, then the water, flour, brown sugar, and vanilla extract. Mix well until all the flour has been incorporated. Cover bowl with plastic wrap (sprayed with butter spray). Set in a warm area to rise for 2 hours (I turn my oven to warm for 3 minutes, turn it off, and then put my dough to rise in there. Just make sure it's not too hot.).
When the dough has risen, you may at this point put it in the fridge to use at a latter time or use now.
When ready to use, cut away about 1/4 of the dough from the rest, and gently mix in a 1/4 of the cranberries and caramelized almonds, until well incorporated. Form into a ball by tucking the edges of dough under until it forms a tight ball.
Place on a non stick pan (I like to use the non stick foil) and let it rise in a warm area for another 30 minutes.
Meanwhile, preheat oven to 375 degrees, with a shallow metal pan on the bottom rack. Mix together the topping ingredients.
Once the dough has risen, top off with 1/4 of the topping and place on the middle rack. Before closing the door, toss the 1 cup of hot water into the metal pan, closing the door quickly to trap the steam. Bake for 25 to 30 minutes.