Want more from Genius Kitchen?
Watch on your Apple TV, Roku, or Fire TV and your iOS, Fire, or Android device.
Learn More
"An easy no-knead recipe for "pao de milho" is from Nancy Baggett's wonderful new cookbook, Kneadlessly Simple: Fabulous, Fuss-Free, No-Knead Breads". The large, homespun loaf has a mild, go-with-anything flavor and a delightful crusty-chewy top. It has a finer, moister crumb than most cornbreads, the result of the cornmeal being combined with boiling water and turned into a mush first. This simple, seemingly unimportant step makes a big difference in taste, too: Due to chemical changes that occur as the cornmeal begins to cook, the bread is noticeably mellow and sweet, even though no sugar is added. Serve it with meals, along with butter, toast it, or grill it and use in all sorts of hearty meat, cheese, and roasted vegetable sandwiches. This bread is very easy to make, but due to the slow rise, no knead method, you must start this bread a couple of days in advance."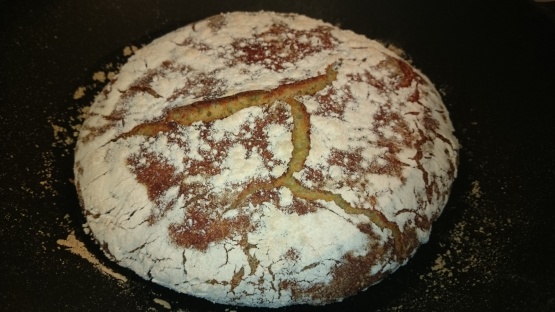 Crusty Portuguese-American Yeasted Cornbread (No Knead)
1 recipe photo
Directions
First Rise: In a medium bowl, gradually stir the boiling water into the cornmeal until smoothly incorporated. Let cool thoroughly. In a large bowl, thoroughly stir together the flour, salt, and yeast. Gradually but vigorously stir the ice water into the cooled cornmeal until very smoothly blended. Then vigorously stir the cornmeal mixture into the bowl with the flour, scraping down the sides until the ingredients are thoroughly blended. If too dry to mix completely, a bit at a time, stir in just enough more ice water to blend the ingredients; don't over-moisten, as the dough should be stiff. If the dough is soft, vigorously stir in enough more flour to stiffen it. Brush or spray the top with vegetable oil. Cover the bowl with plastic wrap. If desired, for best flavor or for convenience, you can refrigerate the dough for 3 to 10 hours. Then let rise at cool room temperature for 12 to 18 hours.
Second Rise: Vigorously stir the dough, adding more flour if needed to yield a hard-to-stir dough. Using an oiled rubber spatula, fold the dough in towards the center all the way around. Brush or spray the top with oil. Re-cover with nonstick spray-coated plastic wrap.
Let Rise Using Any of These Methods: For a 1-1/2- to 2-1/2-hour regular rise, let stand at warm room temperature; for a 1- to 2-hour accelerated rise, let stand in a turned-off microwave along with 1 cup of boiling-hot water; or for an extended rise, refrigerate, covered, for 4 to 12 hours, then set out at room temperature. Continue the rise until the dough doubles from the deflated size, removing the plastic if the dough nears it.
Baking Preliminaries: 20 minutes before baking time, put a rack in the lower third of the oven; preheat to 450°F Heat a 3-1/2- to 4-quart (or larger) heavy metal pot in the oven until sizzling hot (check with a few drops of water), then remove it, using heavy mitts. Taking care not to deflate the dough, loosen it from the bowl sides with an oiled rubber spatula and gently invert it into the pot. Don't worry if it's lopsided and raggedlooking; it will even out during baking. Generously spray or brush the top with water, then sprinkle over a tablespoon of cornmeal. Immediately top with the lid. Shake the pot back and forth to center the dough.
Baking: Reduce the heat to 425°F Bake on the lower rack for 50 minutes. Remove the lid. Reduce the heat to 400°F Bake for 15 to 25 minutes longer, until the top is well browned and a skewer inserted in the thickest part comes out with just a few crumbs on the tip (or until the center registers 210°F to 212°F on an instant-read thermometer). Then bake for 5 minutes longer to ensure the center is baked through. Cool in the pan on a wire rack for 10 to 15 minutes. Remove the loaf to the rack. Cool thoroughly.
Serving and Storing: This tastes good warm but will cut better when cool. Cool completely before storing. To maintain the crisp crust, store in a large bowl draped with a clean tea towel or in a heavy paper bag. Or store airtight in a plastic bag or foil: The crust will soften, but can be crisped by heating the loaf, uncovered, in a 400°F oven for a few minutes. The bread will keep at room temperature for 3 days, and may be frozen, airtight, for up to 2 months.
get the genius kitchen app.
Watch on your iPhone, iPad, Apple TV, Android, Roku, or Fire TV.
Learn More