"Refreshing cucumber sandwiches perfect for a tea party."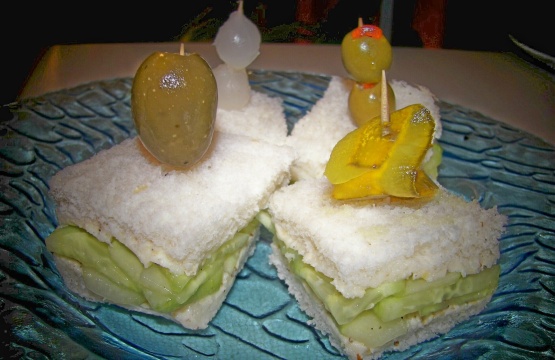 Cucumber Tea Sandwiches
1 recipe photo
Directions
Blend all ingredients for the creamed butter to a fine, soft, spreadable consistency (salt and pepper to taste).
The cucumber must be cut as thin as possible, using a mandolin or a food processor fitted with a metal blade.
Very lightly salt the slices and leave them to drain in a colander, lightly weighted with a plate, for 2 hours or so, pressing from time to time to get rid of the excess juices.
Combined the slice and drained cucumbers with the olive oil, lemon juice and sugar and dredge through the freshly ground white pepper (do not add more salt).
Butter 10 slices of bread with creamed butter.
Layer the cucumbers on the butter bread and then press a second slice of bread firmly on to the top of the sandwich, crust and cut into appropriate shapes (should make 30 fingers or 40 squares or quarters).