"Yummy yummy. Wholesome crab cakes. The only "filler" in this are pureed carrots, chickpeas, scallions, and asparagus. Not much bread-action going on, but plenty of flavor. Cook time accounts for cooking option 1 (skillet). Prep accounts for chopping. RSC4"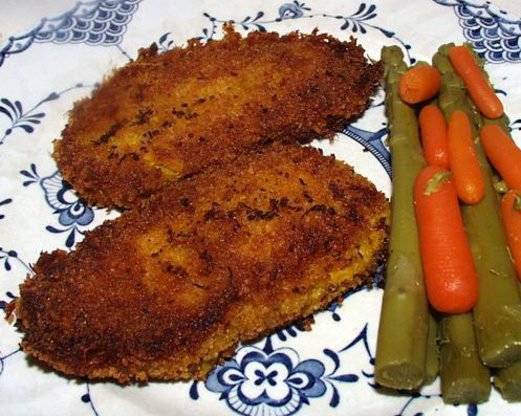 Curried Carrot-Hummus Crab Cakes
1 recipe photo
13

baby carrots, steamed

1⁄2 cup chickpeas, drained (cooked or canned)

1

clove garlic
1⁄4-1⁄3

lb imitation crabmeat, chopped

3

large asparagus spears, chopped,divided

1

scallion, chopped,divided
3⁄8 teaspoon curry powder
1⁄8 teaspoon cayenne pepper (or more if you like the heat ;)
1⁄4 teaspoon ground cumin
black pepper, to taste

3

slices whole wheat bread, toasted,made into crumbs,divided (put half in a shallow bowl or plate)
Directions
Puree first 4 ingredients together to smooth consistency.
Add in half of the asparagus and half the scallions and pulse.
Put mixture into a medium mixing bowl.
Mix in crab, remaining asparagus and scallions, seasonings, and half the breadcrumbs.
The mixture will be sticky, but form into 6 patties and coat with remaining breadcrumbs.
Shake on oregano liberally on both sides and black pepper, to taste.
**TWOOPTIONS** Cook in a nonstick skillet with a little water and veggie broth (or cooking spray).
OR bake at 375*F for 20 minutes, flipping once halfway through.
Enjoy as is or as a sandwich.