"This is such a wonderful canning recipe. I use these tomatoes for "everything" from my Spaghetti sauce, soups, stews to Salas's. My DH & I love putting them up as this recipe was handed down to my DH's from his grandmother. My DH helped make this canning recipe with his mother for years it is a favourite of his and mine! We get our tomatoes from a farmer's family who have grown beautiful hot house tomatoes for year's. I was told by my MIL & DH that I had incorrectly titled the tomato recipe OOPS! Bon Appétit!"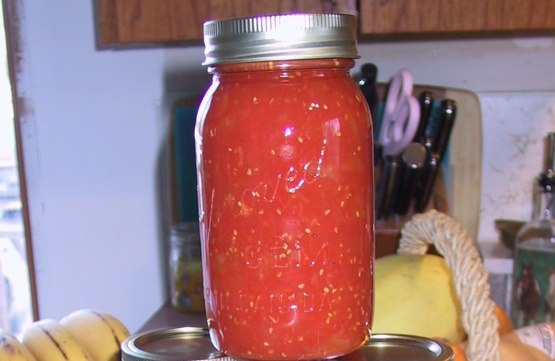 Curried Tomato Relish
3 recipe photos
Directions
Cut tomatoes & slice onions put in a very large pot.
Sprinkle with salt.
Let stand overnight.
Drain liquid off.
Cover with vinegar and bring to a boil.
When tomatoes are boiling add sugar.
Boil for 30 minutes.
Add mixture of mustard, curry with 1 oz of vinegar.
Boil for 20 minutes longer.
Mix flour or cornstarch with 1 oz of vinegar.
Add to boiling tomatoes boil another 10 minutes.
Put in sterilized jars with clean dry sealers.
Note: boiling time depends on how thick you want the tomatoes for the final product.