"My Dad found this recipe in a newspaper about 35 years ago. He lived in Calcutta for some years and grew to love all kinds of Indian dishes. Curries, though, were his favorite. We use it to marinade our beef for shish-ke-bab. Use a really good grade of curry, it makes or breaks the recipe. East Indian is best, but Asian will do. You can use round steak, if you want, the marinating will tenderize it. Also, if I may suggest someone trying lamb? I always triple the curry and double the onion, garlic and ginger. We really *love* curry... Prep time does not include overnight marinating. Cooking time is an estimation. Total time will depend on what type of meat you are using, how big your meat cubes are and the size and consistency of your veg. This isn't as complex as it looks as it is mostly a matter of organization. Give it a try!"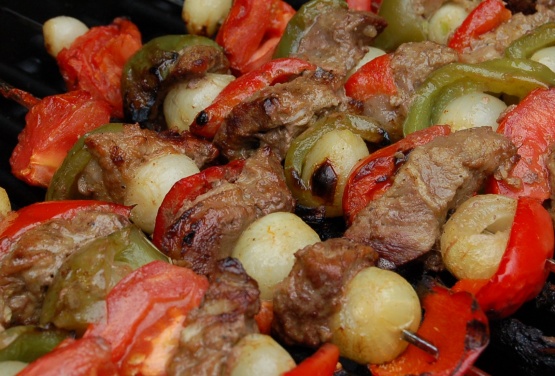 Curry Beef Marinade Kebabs
1 recipe photo
meat

1814.36-2721.55

g beef, trimmed to 1-inch cubes

marinade

340.19

g beer

1

medium onion, diced

19.71

ml curry powder, to taste

14.79

ml minced ginger

2.46

ml minced garlic

453.59

g round steak, 1 inch cubes

vegetables

5

bell peppers, red and green cleaned halves

680.38

g white pearl onions, parboiled and peeled

2

roma tomatoes, quartered

sauce

236.59

ml beer

1

medium onion, pureed

19.71

ml curry powder, to taste

14.79

ml ginger, pureed

2.46

ml garlic, pureed
Directions
Day 1:
Measure beer without a head.
Mix with remaining ingredients, excepting meat and vegetables.
Pour marinade over beef in sealable container.
Refrigerate overnight.
Day 2:
If you wish, the vegetables can all be prepped the day before and kept in the refrigerator until it's time to assemble to kebabs.
Bring large pot of salted water to a rolling boil. Add halved peppers. Cook for about 10 minutes, or until the red peppers begin to lose their skins. Plunge in cold water to stop the cooking. Remove when cool, drain well and cut into 3 pieces for each half pepper. Remove skin from 14 red pepper pieces. Set all aside.
Dump meat and marinade into a colander over a saucepan. Rinse lightly to remove chunks of marinade. Remove meat and pat dry. Set aside.
To the marinade add sauce ingredients (except for beer): oil, curry, pureed onion, garlic and ginger. Bring to a boil, boil for 5 minutes. You may skim if you wish, I usually don't. Reduce heat and add the beer. Stir well and simmer until reduced to the point where the sauce will stick to the meat and vegetables while cooking.
Preheat grill to 300 degrees.
Assemble kebabs in whatever order you wish. I do a piece of red pepper with skin, onion, meat, tomato, onion meat, etc and end up with a piece of tomato, skin out.
(Putting the pepper and tomato on the ends of the kebabs helps to hold the whole thing together on the grill.).
Place loaded skewers on preheated grill, turn every 10 minutes or so, brushing frequently with the sauce.
When the meat is firm and the tomatoes are soft and starting to blacken, give the kebabs a good brushing with the sauce and turn the heat to high for a short period of time. This will finish the caramelizing of the glaze and the veggies will be lovely, done through and slightly crispy on the outside.
Remove from grill, serve with anything you want.
get the genius kitchen app.
Watch on your iPhone, iPad, Apple TV, Roku, or Fire TV.
Learn More