"easy, quick, and melt in your mouth cookie. Good filled or not filled the choice is yours. All the measurements in this recipe are weighed out on a scale. Received this in 1975 from Leeds England."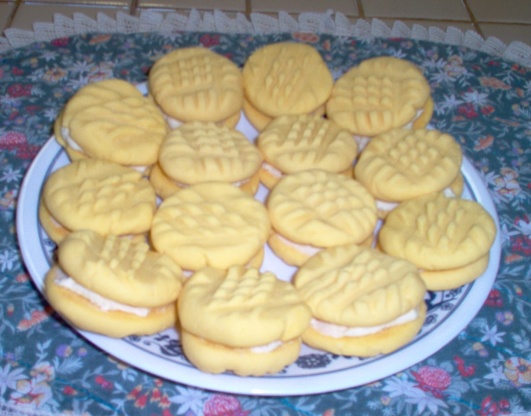 Custard Cream Cookies
3 recipe photos
Directions
Cream 2 ounces of powdered sugar with the 6 ounces of butter or margarine. Cream well until fluffy.
Sift the 6 ounces of flour with the baking soda, and custard powder.
Add dry mixture to the creamed mix and combine well.
Roll into small balls, and then flatten with the tines of a fork.
Bake at 325°F on parchment-lined sheet, until bottoms are just turning golden.
This should be about 8 minutes.
Remove to cooling rack and cool completely.
-CREAM FILLING-.
Combine the last of the 2 ounces powdered icing sugar with the 1 ounce of room temperature butter, until creamy and spreadable.
Spread frosting on the bottom of one cookie, and top with the bottom of another, to make a filled cookie.
Note: This recipe is all weighed out measurements.