"This is my dad's meatloaf recipe, that we've spent years "perfecting." This meatloaf is a huge crowd pleaser-- popular with anyone who loves cheese and bacon! My Dad did this meatloaf on the grill in a cast iron pan, but it's just as good in the oven!"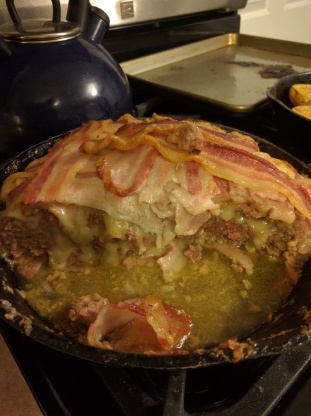 Dad's Cheesy Bacon Wrapped Meatloaf
1 recipe photo
Directions
Preheat oven to 375 degrees.
In a large bowl combine ground beef with eggs and 2 tablespoons ketchup.
Once beef mixture is well mixed, add dry ingredients: breadcrumbs, Parmesan cheese, garlic, salt, oregano, basil, and pepper. Followed by the diced onions.
Set mixture aside.
In 9x13 pan, line the bottom of the pan with the strips of bacon-- the width, not the length of the pan (you can use a loaf pan, but I warn you, the meatloaf is greasy, and the loaf pan can get very full).
Take half of the meat mixture and pat it across the top of the bacon. This should be the bottom part of your loaf. Take THREE of the four pieces of cheddar cheese and place them across the center of the meat mixture (this will be your cheesy center!).
Take the second half of the meat mixture and add it on top of your cheese. Mold the meat into a loaf shape. The cheese should be completely covered and in the center of the loaf.
Finally, pull the bacon and wrap it around the loaf. Take your final tablespoon of ketchup and thinly spread it across the top of meatloaf.
Put meatloaf in oven and cook for 60 minutes.
Take final quarter of cheddar cheese and cut in to slices.
Place these final cheese slices on top of the meatloaf, and put meatloaf back into oven until the cheese is melted (approximately 5 minutes.) Let meatloaf sit for a few minutes to cool before serving.