"This is a recipe for Japanese Daifuku Cake. Daifuku is a soft Japanese mochi cake that is filled with a sweet bean filling. The recipe seems to be long but it is really easy and so worth it. You will be rewarded with a delicious Japanese treat!"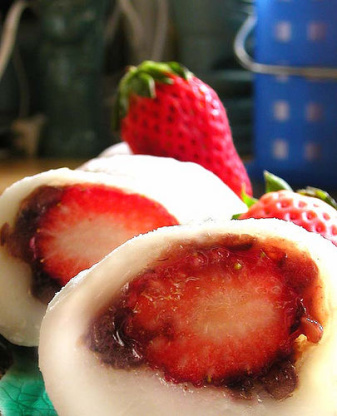 Daifuku Cake
2 recipe photos
Directions
For The Anko Filling:.
Place 4 cups of water in a pan and add the azuki beans to the water.
Place on high heat and bring to a boil.
Remove from stove when mixture starts boiling and drain the water.
Place 6 cups of water in the pan with the azuki beans.
Place on low heat and simmer for about an hours until the azuki beans are softened.
Remove excess water and add sugar.
Stir on low heat for a few minutes just until it thickens.
Remove from heat and set aside.
For The Dough:.
Place rice flour, sugar and water in a pan.
Place on low heat and stir constantly until dough thickens.Place the dough on a floured surface and divide into 12 pieces.
Press the pieces into rounds.
Place a TBSP of anko in the center of each dough round and stretch the dough to enclose the anko.
Shape into a ball.