"This very traditional Australian bread was the staple food of the famous Australian swagman. Traditionally it is cooked in the coals of the campfire but this version is made in your oven. It's very quick to make and extremely versatile. Damper is a cross between a bread and a scone. It can be either sweet or savoury and the variations are endless - just use your imagination. Try a savoury damper as a side dish with soup. The swaggies often served a plain or sweet damper with butter and golden syrup (corn syrup). Served like this it's called 'cockie's joy' - a 'cockie' being a farm worker, and a 'boss cockie' being the person in charge. Damper does not keep well. It is best eaten the day it is made, but it can be frozen and reheated. Give it a try for something different!"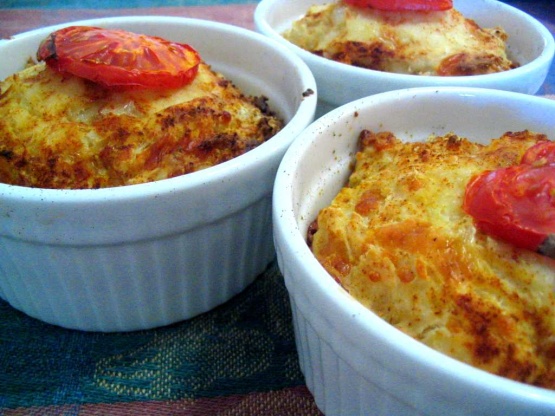 Damper (Aussie Campfire Bread)
2 recipe photos
READY IN:

40mins

SERVES:

4

UNITS:

US
Directions
Set oven to hot 200C (400F).
Grease an 18cm (7 inch) sandwich cake tin or four single serve ramekin dishes.
Sift flour and salt into a mixing bowl.
Add any other optional ingredients (see below).
Make a well in the centre of the flour and add most, but not all of the milk.
Mix with a knife, adding more milk if necessary, until you have formed a fairly moist, but not sloppy, dough.
Turn dough into a cake tin or spoon into ramekins.
Smooth the top with the back of a spoon.
If making a savoury damper, sprinkle the top with cheese and/or add a thin slice or slices of tomato.
Bake for 20-30 minutes until golden brown on top and a skewer, inserted in the centre, comes out clean.
Turn out and cool slightly on a wire rack before serving.
Serve warm with butter.
Some Variations: Cheese Damper- add 1/2 cup grated cheese and a pinch of cayenne pepper.
Cheese and Bacon Damper- add 1/2 cup grated cheese and 2-3 rashers of cooked, chopped bacon.
Cheese and Herb Damper- add 1/2 cup grated cheese and 1/2 cup chopped fresh basil OR 1 teaspoon of dried herbs.
Fruit Damper- add 1/2 cup mixed dried fruit and 1 tablespoon sugar.
Orange Damper- add the finely grated rind of an orange and 1 tablespoon sugar.